SolidWorks Tutorials 15: Extrude Cut Feature
Extrude cut is another cool feature which helps to remove materials from the 3D model. It is just opposite to extrude boss/base feature, because it cuts a sketch profile while extruding. You can cut in both directions and mainly used for creating holes, channels, slots etc. This feature tool is also located in command manager or you can access it from the Insert menubar. Now you can see how to create holes on rectangular solid box using extrude cut feature tool. Click here to see more SolidWorks Tutorials for Beginners
How to Use Extrude Cut Feature
I'm going to create circular hole in rectangle box which dimensions and image are give below.
Checkout Best SolidWorks Training Materials here.
Note: This is just tutorial showing how to use extrude cut tool, not showing any product drawing or designing in it. If you are advanced SolidWorks user please avoid it. This Solidworks tutorial is for beginners, students or people likes to learn about SolidWorks.
Click here to Buy Advanced SolidWorks Tutorials from Amazon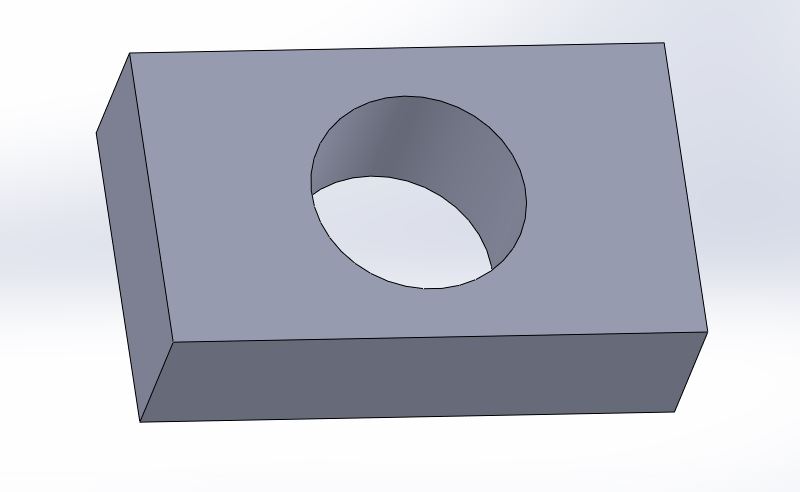 Rectangle box size: 100 x 60 x 30 mm
Hole diameter: 20 mm
Step-1: New Part File
Open the SolidWorks and New part File. If you don't know it, read how to create new part File. Select the Plane (e.g. Top Plane) and normalize using the "Normal To" Button.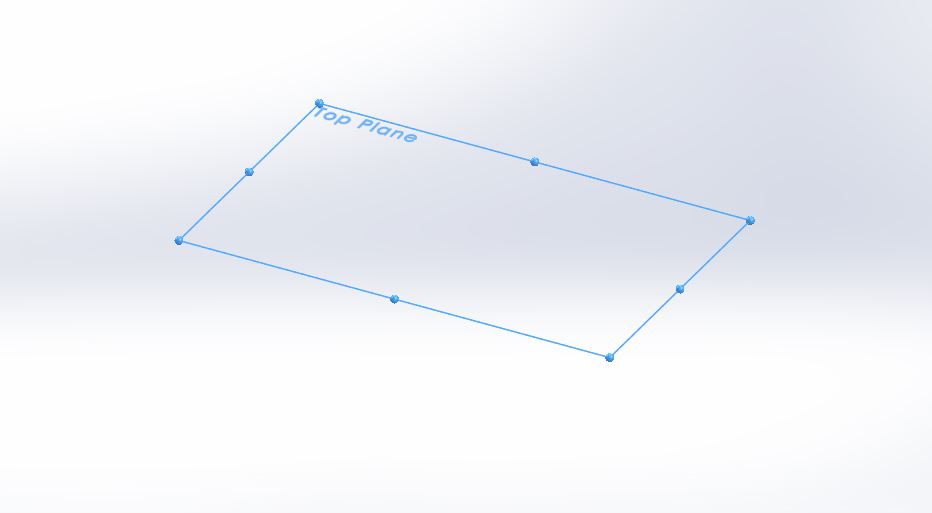 Related SolidWorks Features Tools Tutorials:-
Step-2: Create Rectangle box
Go to sketch and select rectangle button from command manager. Then draw a rectangle in the graphics area. Using Smart dimension tool, apply the given length (100 mm) and breadth (60 mm).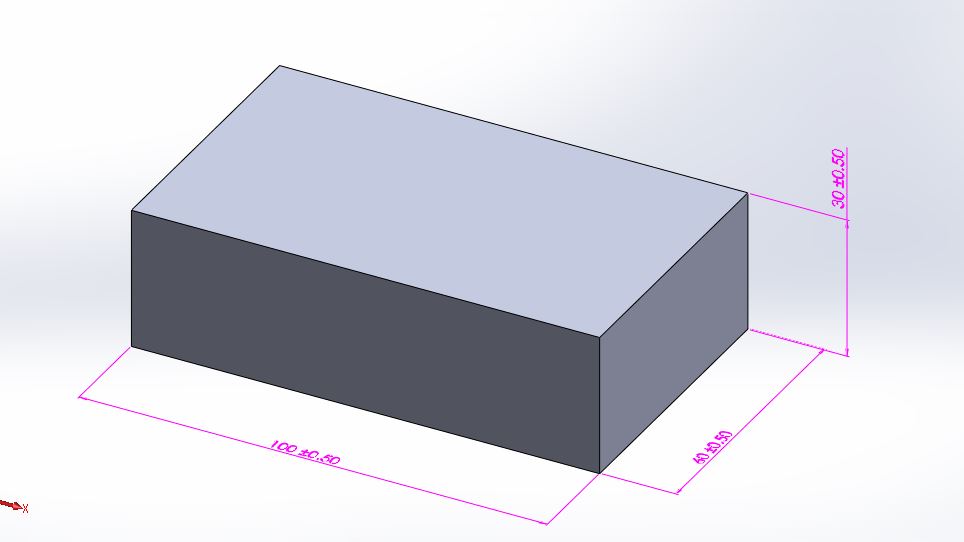 Then "exit the sketch" and select the "sketch-1". Go to feature command manager and select extrude boss/base feature button. Apply the height of box (30 mm) and click green tick button (OK) to complete rectangular box is shown in the above image.
Step-3: Draw Circle Sketch
I want to make hole on the top surface of the rectangular box. For that you need to draw another sketch on it.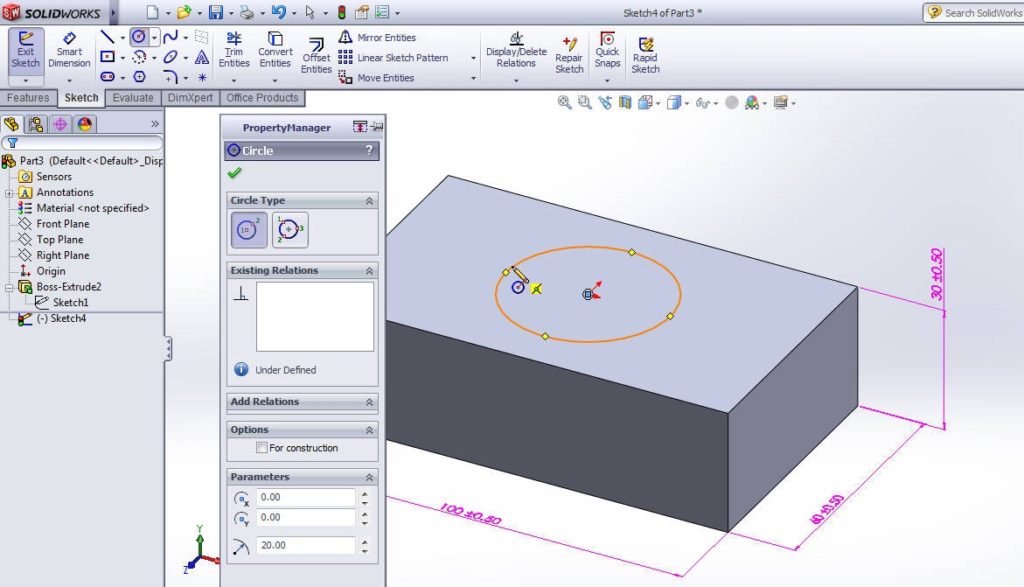 Here first select the top surface and then go to sketch and select "circle" button from the command manager. Select the center-point of box and drag outwards to set the radius as 20 mm in property menu. You can also set it using smart dimensions.
Step 4: Apply Extrude Cut Feature
Then you must "exit the sketch" and select the "Sketch-2" from the featuremanager design tree. Go to features toolbar and select the extrude cut button as shown below.

You can see the yellow color preview of circular hole from the selected surface.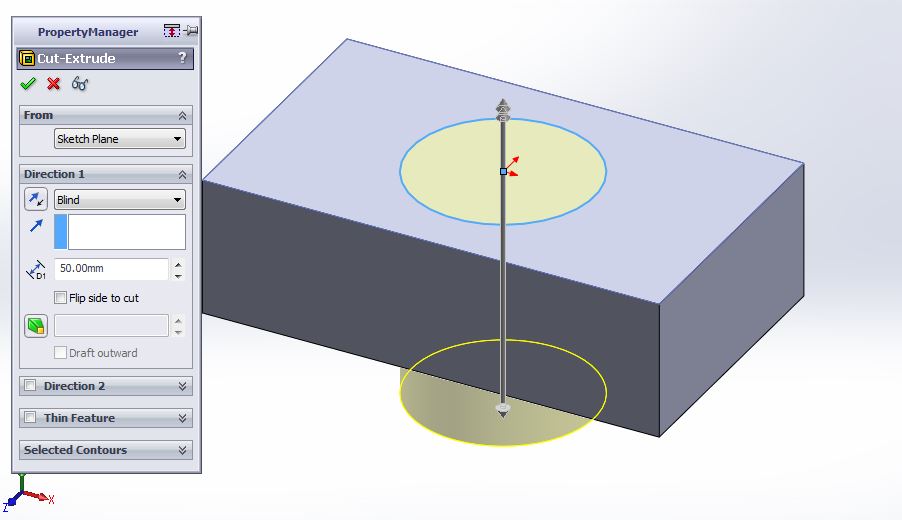 Select the "blind" as extrude type. Then you can drag by clicking on the direction arrow in the sketch. Here I need hole completely through it.
or
You can also select "through all" as extrude cut type.
Click green tick button (OK) and complete the required rectangle box with circular hole.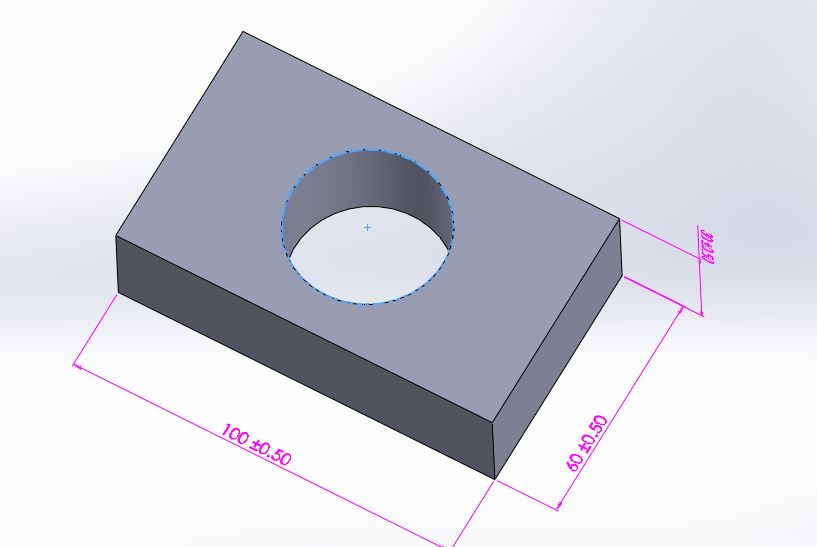 Related SolidWorks Sketch Tools Tutorials:-
See an example Video:-
Additional Info: Cut Extrude Property Manager

From: You always draw from the sketch plane. Other options available are offset, vertex and surface/face/plane.
Direction 1 or 2: End conditions are available are blind, through all, up to vertex, up to surface, up to next, up to body, offset from surface and midplane.
Here you can set the cut extrude distance. You can also Flip side cut option which enables to cut outside your circular sketch.
You can also apply draft to hole by setting draft angle and direction (inward or outward).
Selected Contours: To perform multiple extrude cut operation using multiple sketch profiles.
More Solidworks exercises are coming soon!
Feel free to share your honest opinions as comments and follow me on Facebook, Twitter and Googleplus.