Welcome to my "SolidWorks Tutorials for Beginners", how to tutorial series

Do you know about SolidWorks CAD software and how to use it? SolidWorks is one of the best 3D modelling software which allows you to create models, simulation, assembling, applying motion to models etc. These Solidworks tutorials is mainly created for beginner level mechanical engineers (B.tech/B.E student or professional) who seeks to learn about solidworks basics or product designing using this cad modeller software. Here I going share the basic tools, features, how to sketch, how to use features and also the latest news of solidworks software.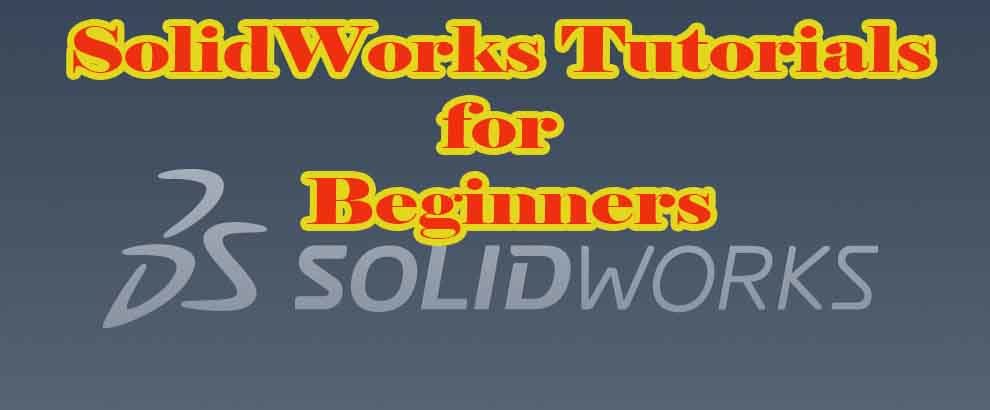 Click here to see the SolidWorks Video Tutorials in my YouTube Channel.
This is main page of SolidWorks tutorials for beginners contains the basic to advanced how to tutorials of solidworks tools and features.
Checkout Best SolidWorks Training Materials here.
Soldiworks CAD Basics | SolidWorks Tutorials for Beginners
SolidWorks CAD is one of the best 3D modeling software which helps to design new products with ease and improved productivity as compared to other cad softwares. Learn solidworks basics, features, engineering applications here.
Tutorial post explains the main User interface of solidworks with marked images.
Post explains the main menus of solidworks cad program and explains each one of them with their applications. It contains File, View, Edit, Insert, Window and Help menus like in other windows softwares.
Features toolbars or features command manager is main part of Solid Work which provides all features to create/edit solid designs and helps to improve the productivity of designers.
Before designing any solid products, first you need a basic drawing. The sketch toolbars or sketch command manager provides sketch tools such as line, rectangle, arc, polygon, ellipse, circle, slot, trim etc helps to create basic two dimensions drawing of the design. It also helps to create 3D sketch in this CAD software.
Heads up toolbar is part of solid works UI , which contains different types of view tools like view orientation, section view, zoom to area, zoom to fit, previous view, hide/show items, apply scene, edit appearance and customization. It is mainly used to see the different views of your product designs as per designers need.
View orientation tool is sub tool of solid work cad heads up toolbar which contains left & right view, Top & bottom view, front & back view, isometric view, trimetric view, biometric view, Normal To, Single view, two view horizontal & vertical and four view. Using View orientation, you can adjust viewing angle or orientation with ease. Read this tutorial to get it more.
SolidWorks Sketch Tools| SolidWorks Tutorials for Beginners
In this section, you can see the step by step tutorials of solidwork sketch tools like line, rectangle, circle, arc etc in detailed manner with aid of pictures and videos.
Line tool is one of the main sketch tool used in solidworks cad software to draw horizontal, vertical or angled straight lines in sketch user interface. It is also showing how to draw centerline using this tool.
There are three main solidworks file creations are there, which are Part, Assembly and 2D drawing. New part file creation is one of the basic step before starting any product model design using Solid work. Each of the art file you have to create small parts of bigger product. Using the assembly file, you can combine previously designed parts into one bigger product.
This is tutorial of circle sketch tool which shows how to draw different circles in sketch area. There are different circles types are available such as Circle and perimeter circle which explained in very detail with pictures and videos.
Rectangle sketch tool is one of the useful tool to draw rectangle or square sketches instantly in solidworks graphics area. There are different types of rectangle tool such as center rectangle, corner rectangle, 3 point center rectangle, 3 point corner type and parallelogram. You can see how to use each type in this step by step tutorial.
Arc sketching tool is mainly used for creating arc drawing in sketch area. You can find three type of arc sketch tools such as center-point arc, tangent arc and 3 point arc in solidworks command manager. Follow the link to see how to use solidworks arc tool in detail.
Slot sketching tool is used to create  or sketch slots on your design with ease. You can also create slot using combination of lines, rectangle and arc tools. But it is time consuming work and actually create complex design files. Using Slot sketch tool, you can create slot drawings with one click and increases your productivity. There are 4 types of slot sketch tools are available in this cad software. They are straight slot, centerpoint straight slot, 3 point arc slot and centerpoint arc slot tools. See the how to use solid works slot tool tutorial here.
Polygon sketching tool is used to create different types of polygons such as triangle, rectangle, pentagon, hexagon, heptagon, octagon etc. Draw polygon sketch in user interface and enter number of sides as you needed to get type of polygon in your CAD design drawing. Learn solidworks polygon sketch tool here.
SmartDimension tool is used to set up or edit the drawing dimensions sketched in solidworks sketch area. It also helps to mark dimensions on designed model. See how to use smart dimension tool and its property manager here.
Ellipse sketching tool is used for creating ellipse drawing in sketch area. See the full tutorial here.
Tutorial showing how to use parabola sketching tool in solidworks cad software in detail.
This is tutorial showing how to use sketch fillet tool for rounding or filleting the design drawing sharp edges and corners in sketch user interface.
This is tutorial showing how to use sketch chamfer tool for straightening the sharp edges or corners in certain angle or distance in product design drawings. It also shows chamfering methods like distance-distance and distance-angle method.
Sketch trim entities are sketch tool mainly used for trimming or removing unnecessary parts or portions from the sketch entities. This tutorial shows how to use trim entities tools of different types such as power trim, corner trim, trim away inside, trim away outside and trim to closet methods.
Linear sketch pattern is one of the useful tool which helps to add sketch entity in number of times in linear manner. See the tutorial to how to do it in this cad software.
Learn SolidWork circular sketch pattern tool application, which is used to create patterns of sketch in circular manner.
23. Solid Works Tutorial 16: Spline Sketching Tool
Learn how to draw simple and complex 2D & 3D curves using the spline sketching tool and follow link to see the spline tool step by step how to tutorials.
Solidworks Boss & Cut Tools| SolidWorks Tutorials for Beginners
In this section, you can see the step by step guide for using Solidworks features tools like Extrude boss, Extrude cut, Revolve boss, Revolved cut, Swept boss, Swept cut, Loft boss, Loft cut etc.
In this tutorial, you can see how to use extrude boss or base feature in solid works. This is mianly used for adding materials to sketch drawing created in sketch area. Simple applications are create 3D solid box, solid cylinder, solid polygons, solid rods etc. This is first tool you always want to use in this cad software after completing your part drawing.
Extrude cut is feature tool which is used to remove material from the extruded design model. Here, you should have closed profile and you can extrude it through the model to remove material as per the profile. Applications are creating hole, simple slots, hollow box, making shell products etc.
Revolve boss or base is feature tool used for creating solid parts or model designs by revoloving the sketch profile about an axis. This is also material addition option provided in solid works cad software. It is very useful if you want to design symmetrical products (if you divided through its center axis equally using a plane, its shows same half sections.). Applications are creating solid & hollow cylinder, stepped shaft, internal combustion engine pistons, hollow pipes, different types of couplings etc.
Revolved cut is same as the revolve boss feature tool, but the main difference is used to remove the materials by revolving a closed profile about an axis. It is very useful tool to remove internal materials from 3d model symmetrically. Main uses are internal symmetric cutting such as shaft stepping, stepped sleeves, railway wheels, internal & external step cutting etc.
28. SolidWork Tutorial 21: Swept Boss/Base Features Tool
Swept boss is very useful solid work feature tool which helps to sweeps a closed profile through a specified path. You can create complex curved 3D models using this boss feature tool. For using this Sweep boss, you have to follow some rules and in this solid work tutorial, you can see the how to use swept boss or base step-by-step guide.
29. Solid Works Tutorial 22: Swept Cut Features Tool
Swept cut feature tool works just opposite to the solid work swept boss, which helps to remove material by sweeping a closed profile through a specified path. Using this, you can remove materials any portions of 3D design model where path creation is possible. Like Swept Boss/Base, swept cut also having certain rules to follow and click on link to see how to use this tool.
30. Solid Works Tutorial 23: Loft Boss/Base Features Tool
Solid work loft boss or base tool is another boss feature which enables to add materials between two or more sketch profiles having certain distance between them. It also applicable between one boss feature model and sketch profiles. Using this tool, you can easily created lofted designs and very simple to create complex models.
31. Solid Works Tutorial 24: Loft Cut Features Tool
Loft cut is also boss feature tool which used to remove materials between two or more bossed models using one closed sketch profile. It removes materials by lofting a closed sketch profile like circle, rectangle etc. Click the lonk to see how to use loft cut effectively in solidworks cad software.
32. Solid Works Tutorials 25: Boundary Boss/Base Feature Tool
Boundary boss or base is one of the advanced boss feature tool which helps to create complex designs or 3D models in solid work. Using Boundary boss, you can add materials between two boss feature or two sketch profiles boundaries. It helps to add materials in two directions and there by you have greater control to complex models.
33. Solid Works Tutorials 26: Boundary Cut Tutorial
How to tutorials of solid work boundary cut feature tool explained with step by step screenshots and youtube videos.
Solidworks Placed Features | SolidWorks Tutorials for Beginners
SolidWorks Exercises | SolidWorks Tutorials for Beginners

Disclaimer:-

SolidWorks is a registered trademark of Dassault Systemes SolidWorks Corporation.
www.SolidWorksTutorialsforBeginners.com website is not related or affiliated with Dassault Systemes SolidWorks Corporation. The purpose of this blog page is educate about solidworks cad modeller to beginner level mechanical engineers in design completely free of cost. SolidWorks tutorial and training materials provided may contain affiliate links which will not cost anything extra from actual price of it. If you buy training materials through my blog link, will get some commission which helps me to meet running cost of this blog. Thank you.