SolidWorks Tutorial 29: How to Use SolidWorks Rib Tool
Welcome to SolidWorks tutorials for beginners and in this tutorial post I am going to show how to use SolidWorks Rib tool feature in structural designs. You can find about Rib feature tool, its uses and step by step tutorial to using this feature on Solidworks CAD software.
What is SolidWorks Rib Feature Tool?
SolidWorks Rib is thin walled supported which added to solid body and it's a placed feature like Fillet, Chamber, Simple Hole, Hole Wizard etc. It helps to increase the strength of solid or structural body. Rib feature is just like extruded feature which allows to extrude from both open and closed sketch profiles or contours. It is located in the Solid works features command manager or in features section of Insert menubar. The extruded rib drafting and multiple sketch ribbing also possible by using Rib property manager. Checkout Best SolidWorks Training Materials here.
Note: Placed features means you don't need to create sketch or model to apply this feature tool and you can apply it on the exiting model. Placed features tool helps to improve your design productivity, efficiency and make job easier within smallest steps.
Why designing of Rib is important:-
Rib design helps to withstand structural member to expected loads, but have several disadvantages if it is not properly designed. It solely increases the weight of the designed structure and corresponding cost due to increase in thickness. If the rib joints are not uniform, it will also cause stress concentration on joints and leave back sink marks over there. To avoid these problems, good designing and creation of rib is important for getting low weight, eliminate surface defects and strengthen design.
Main uses of Solidworks rib feature are designing frames, supports, covers, cabinets, long body components, Bearing surfaces in gearboxes etc. It is very useful when designing plastic body designs such as toys, internal wall structure etc.
Related Placed Features:-
Let us see the Rib step by step tutorial with pictures.
How to Use SolidWorks Rib Tool
Here, I am going to create simple Rib feature between to L shaped part. It is easy to show and beginners can easy understand without any problems. To apply Solidworks Rib feature, simply follow the steps which are given below.
Step 1: Create New Part File
Open Solidworks CAD software and create new part file. Then select any one of the default from the FeatureDesignTree manager like Top, Front or right plane. Here I selected the "Right Plane" and make "NormalTo" using view orientation tool from the Solidworks Headsup toolbar.
Step 2: Create L Shaped Short Beam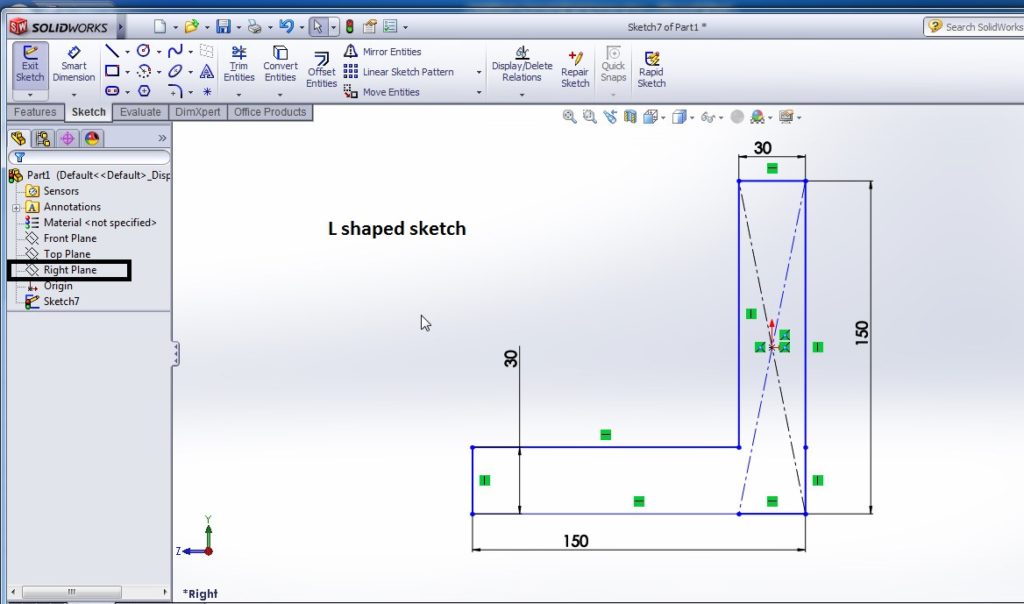 The above images show L shaped short beam structure 2D sketch, drawn using center rectangle and corner rectangle. You can also use the Line Sketch tool for drawing this sketch. For purpose of this tutorial, I have given rough dimensions using the SmartDimension tool to the sketch as "150 x 150 x 30 mm". Also use "Trim entities sketch Tools" to trim the inside lines and make completely L shaped sketch and continuous flow. See What are the Sketch Tools available in Solidworks
The apply Extrude Boss feature tool make it L shaped short beam with extrusion length as "100 mm".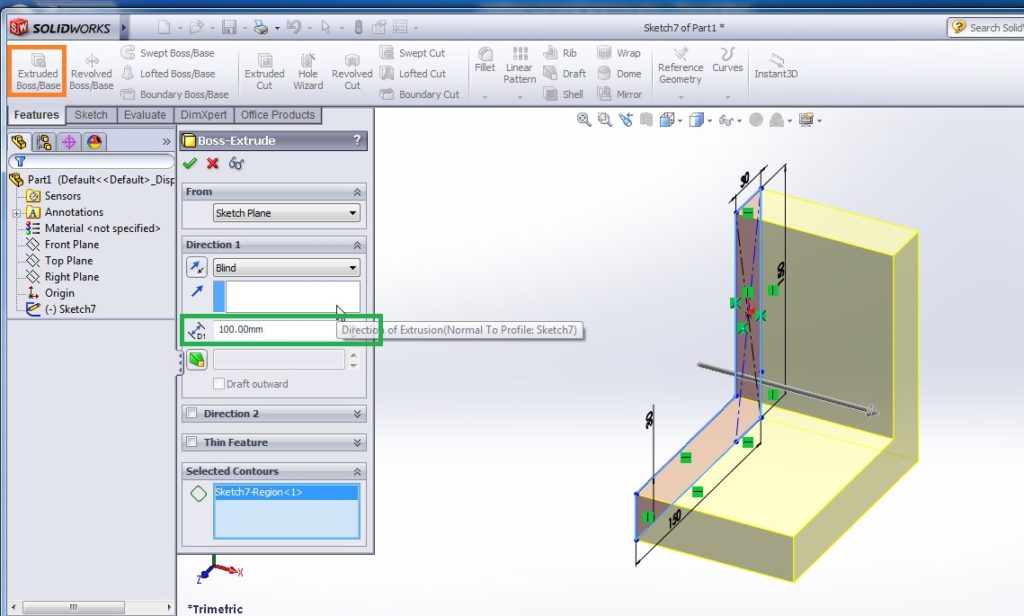 Step 3: Create Open or Closed Sketch for creating rib
I want create rib on the middle portion of the L-beam for providing god support and strength. For creating an open or closed sketch, need a Reference plane. See how to use Reference Plane in Solidworks here.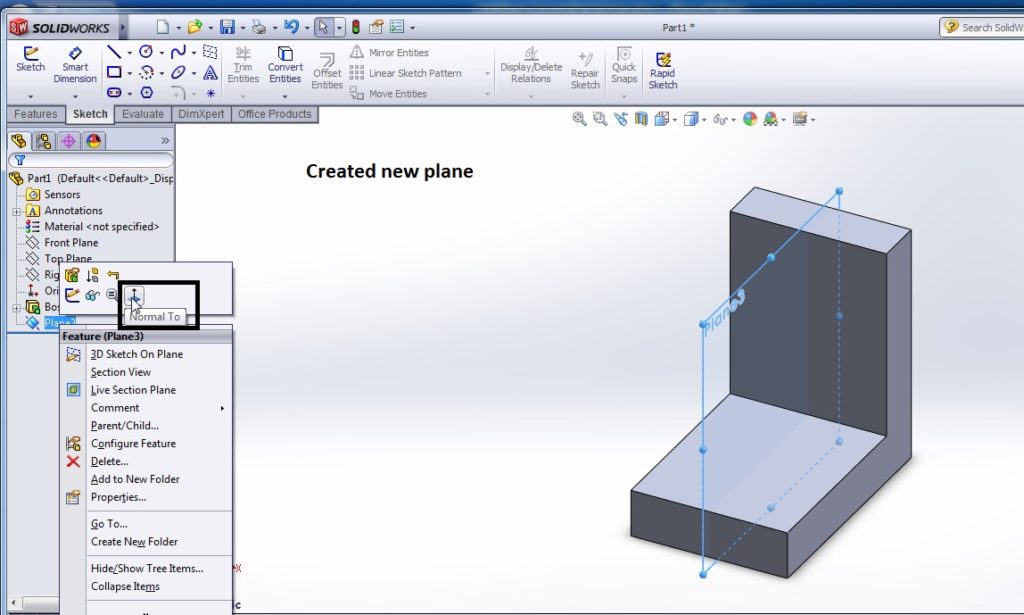 Create plane and set it to middle of the L-beam (set plane offset distance as 50 mm).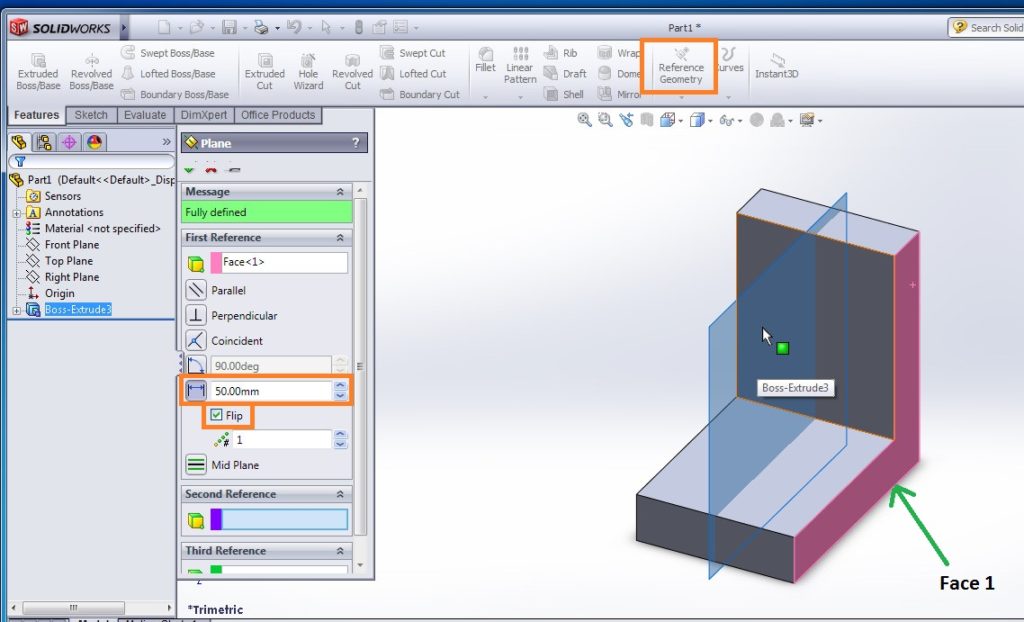 Make the plane "NormalTo" and draw a line as shown in the figure.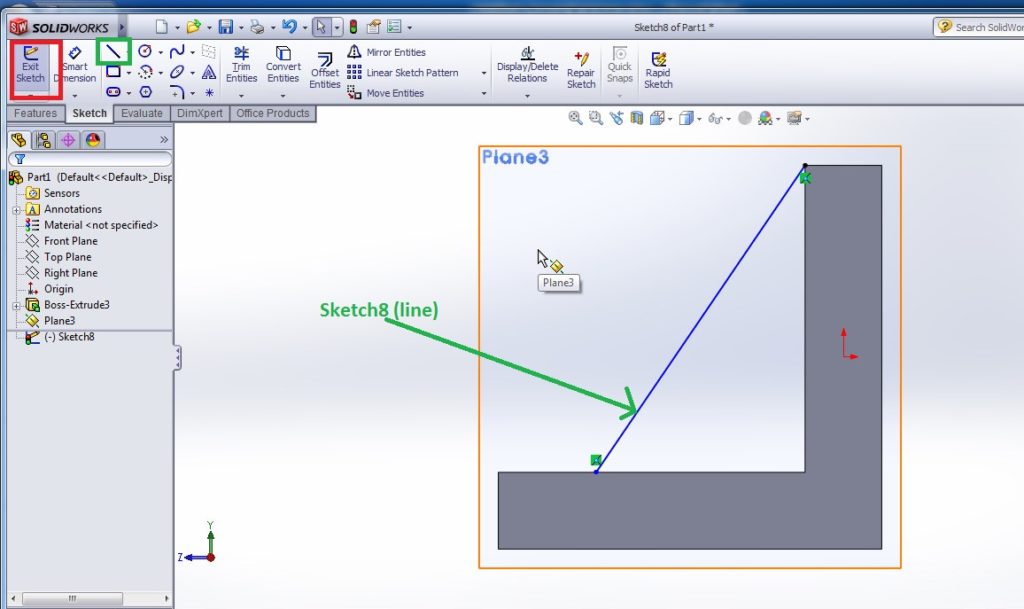 Then don't forget to "Exit The Sketch".
Go to Features tab and Select the latest sketch (Sketch8). Otherwise Rib feature asks for select plane, face or sketch to application.
Step 4: Select SolidWorks Rib Tool
From Features CommandManager

Go to Features CommandManager and click on the "Rib" feature tool.
Or
From Insert Menubar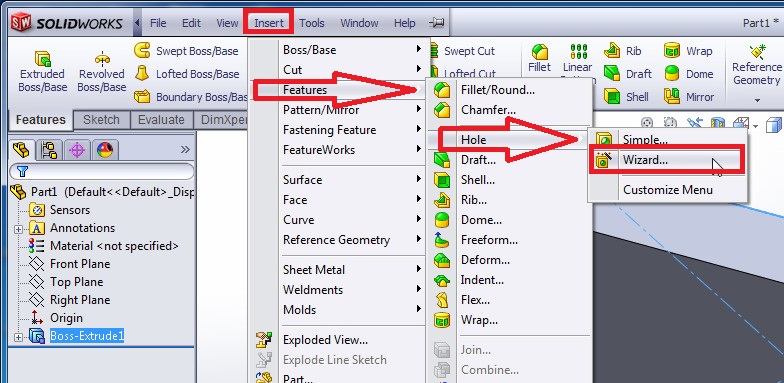 Click on the "Insert Menubar" and from the drop down menu select "features". You can see side drop down menu, from that click on the "Rib" features tool.
Step 5: Apply SolidWorks Rib tool
Now, you can see the "Rib Propertymanager" in the Solidworks user interface. In the "parameters" section, You can decide thickness, Direction of rib material addition, extrusion direction, Inward or outward draft etc.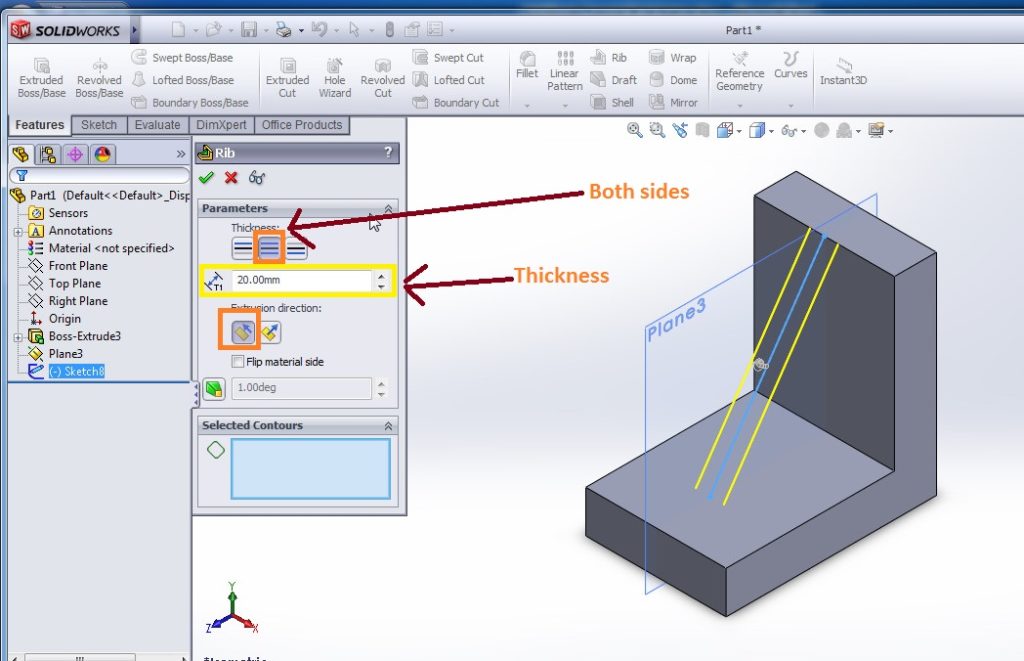 Here I set thickness as "20 mm", "both sides" as direction of the material addition and "parallel to sketch" as extrusion direction which is shown in the above figure.
Click on the green tick button to apply it.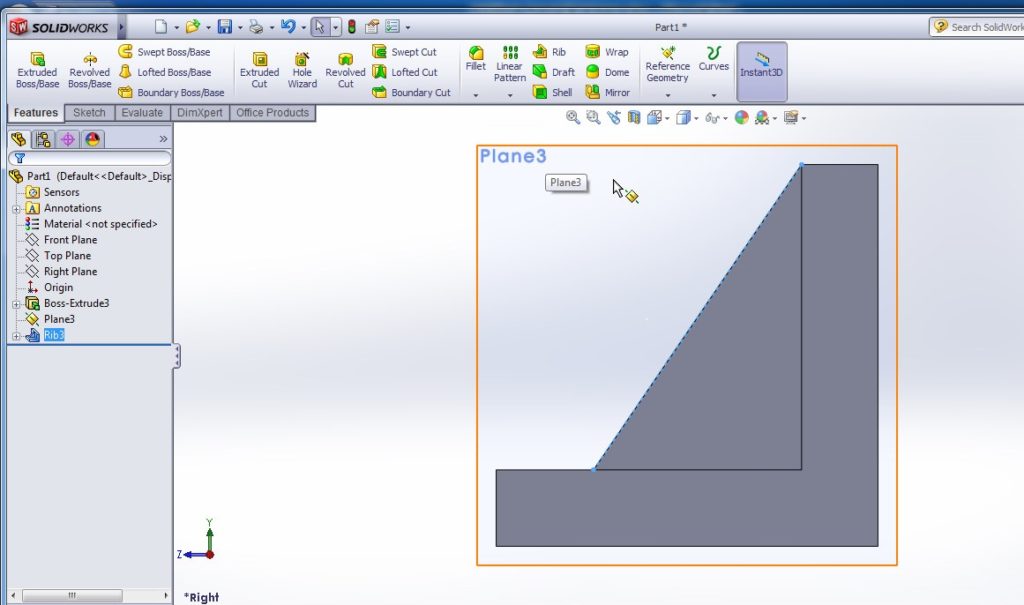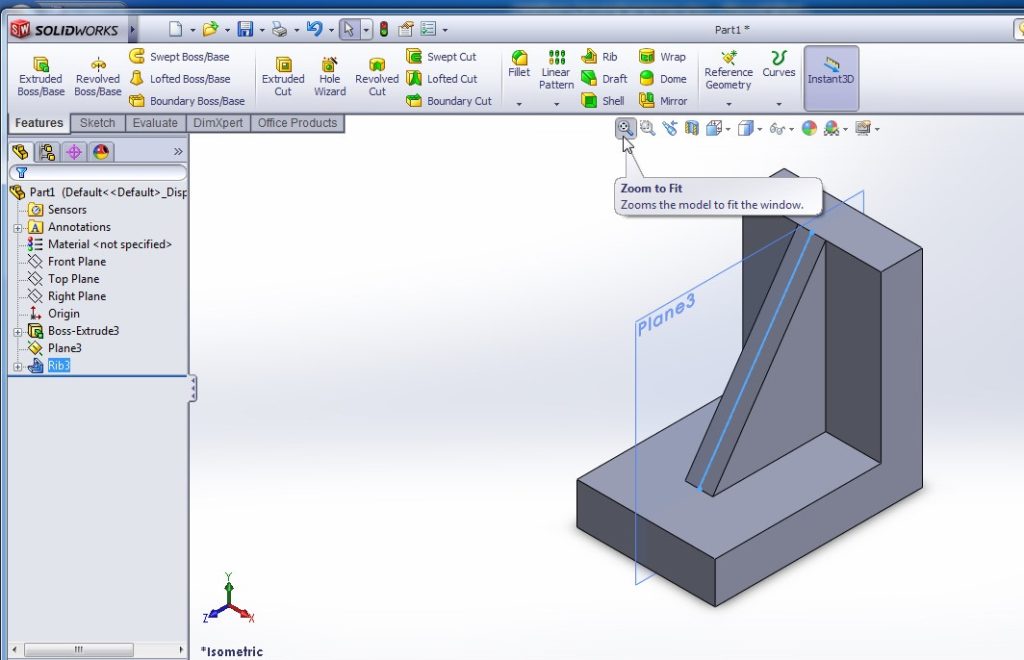 Draft On/OFF
Inward Draft Application
Draft angle = 8 degree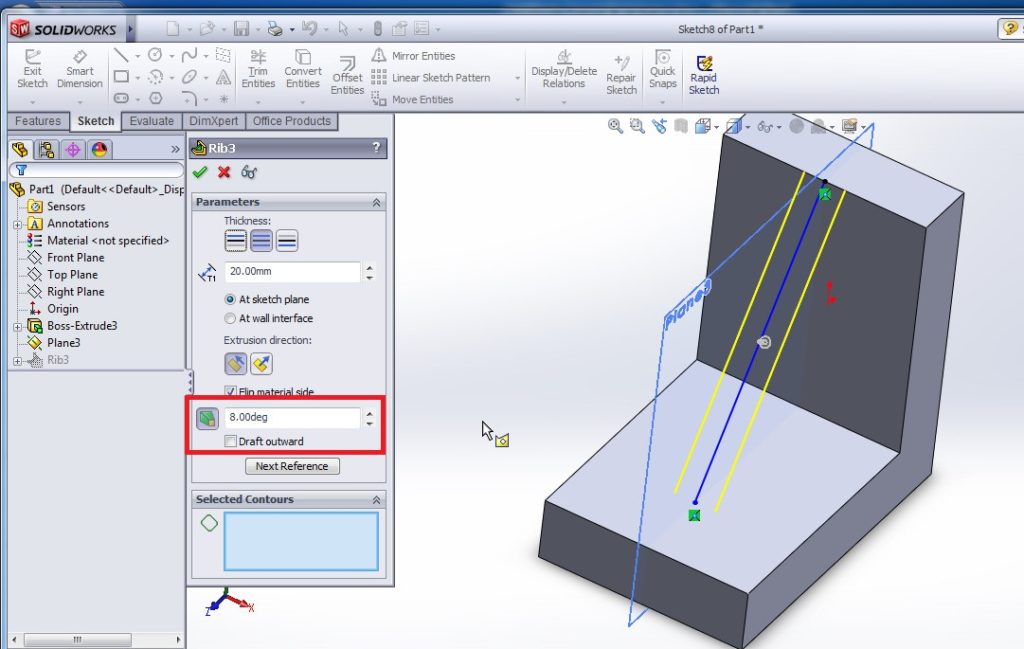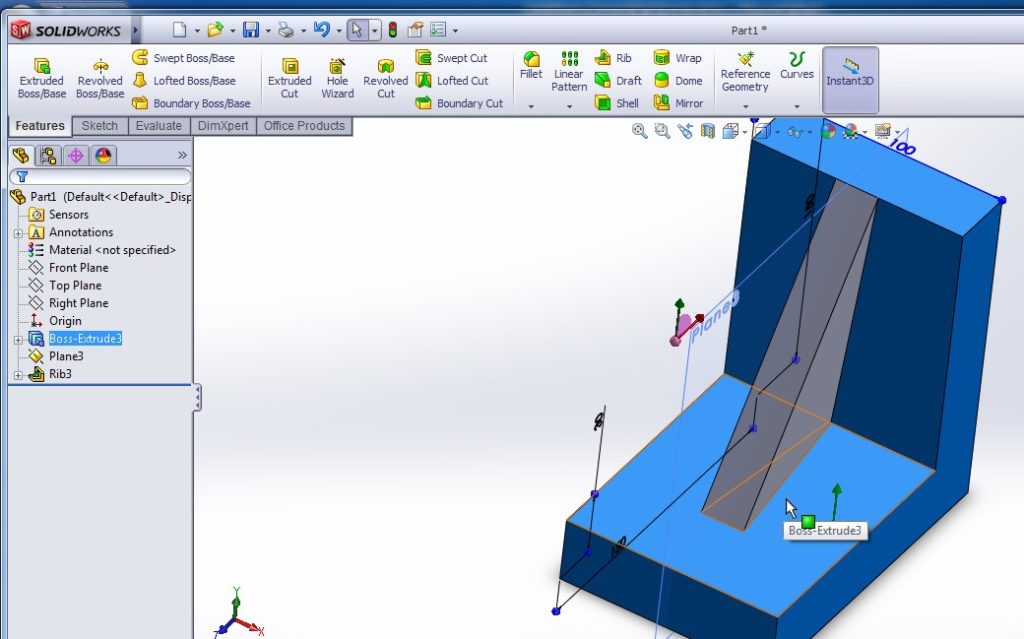 Outward Draft Application
Draft angle = 8 degree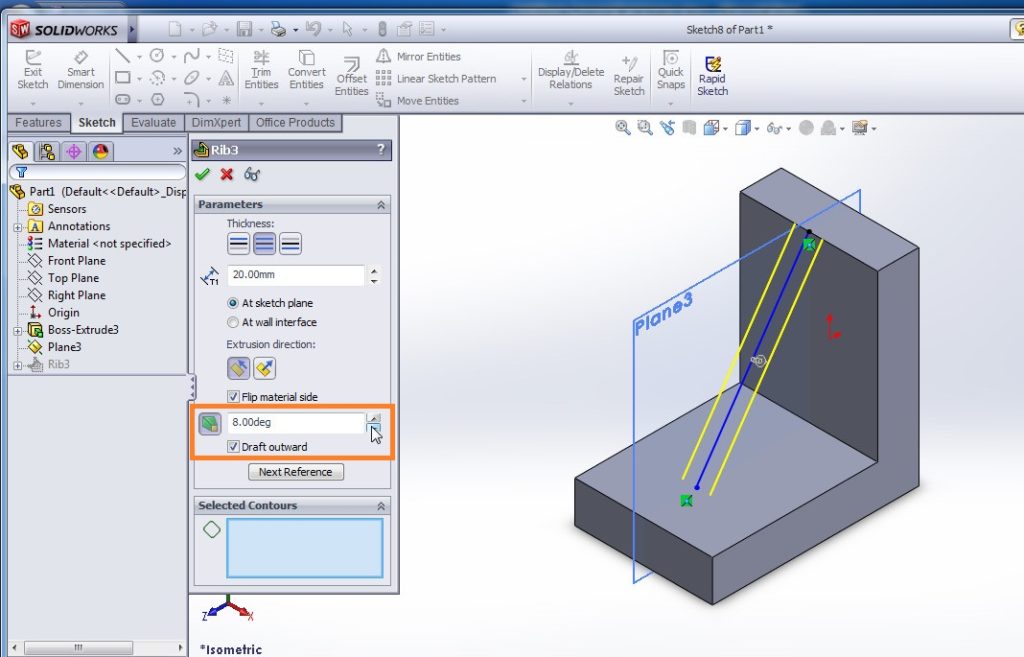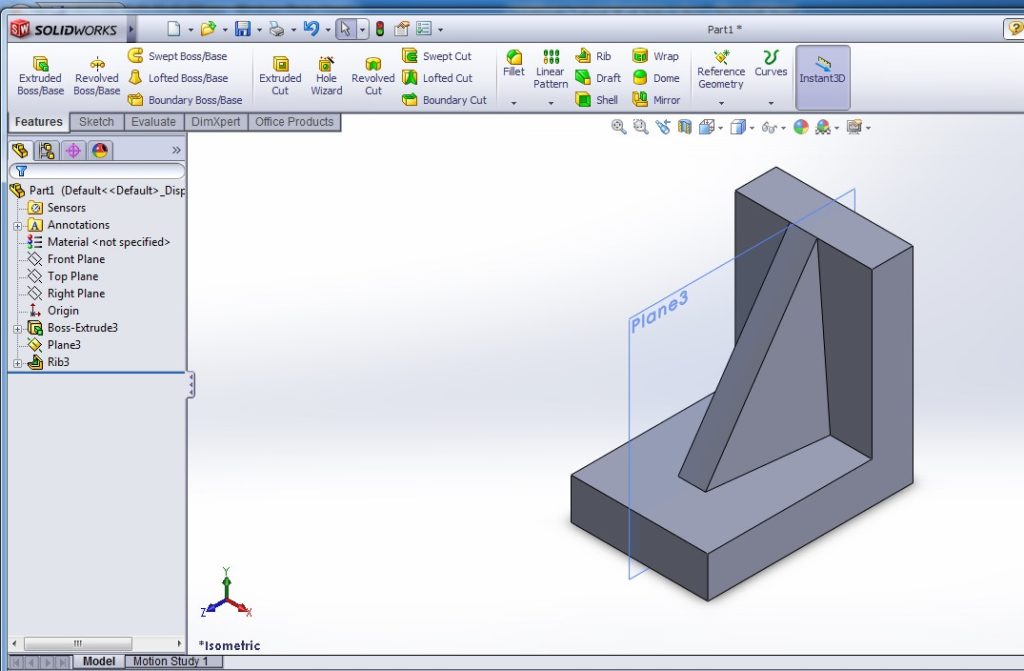 Note for Readers: SolidWorks Rib tool can use for single or multiple sketch with open or closed profiles. It is very useful tool for plastic product designs, frames and suppot fabrication etc.
I hope you guys got the idea to use the SolidWorks Rib tool and next Solidworks tutorial going to show your how to use SolidWorks shell tool features.
To get more How To Tutorials, Follow me on Facebook, Twitter, GooglePlus and YouTube.
If you have any doubts or confusions ask me through contact form or comment box. Thank you friends.