How to Create Simple Hole_SolidWorks Tutorial 27
Welcome to SolidWorks Tutorials for Beginners series and in this tutorial, you are going to see how to use solidworks simple hole feature tool in the Solidworks cad software. It gives step-by-step tutorial with pictures and also explains the Hole Propertymanager too. Here I'm going to show you how to create simple hole in a rectangular sheet as an example. Before going to SolidWorks Tutorial, you should know about the "Simple Hole" tool.
What is SolidWorks Simple Hole Feature Tool?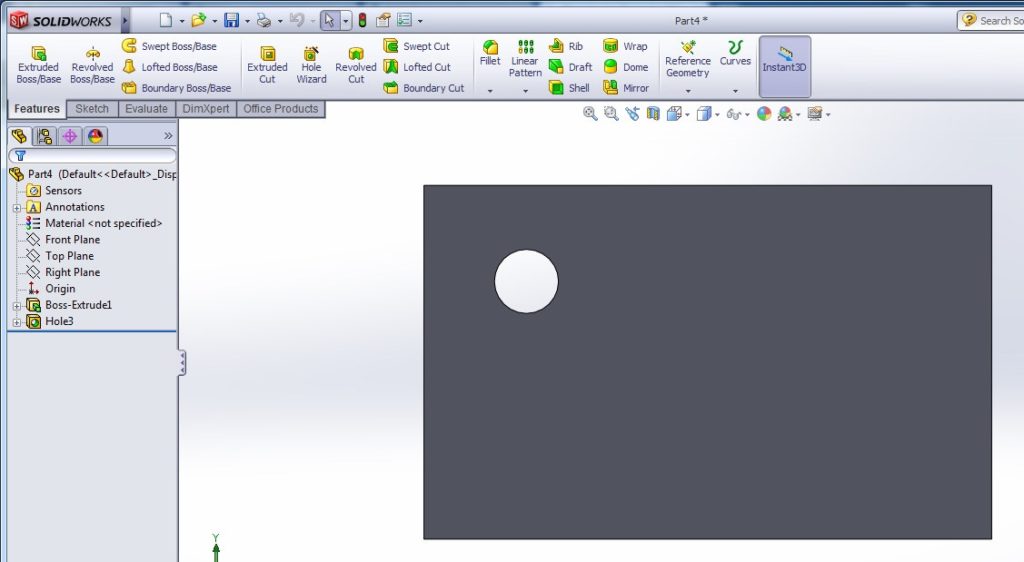 SolidWorks simple hole tool is one of the useful one which helps to create cylindrical holes in the planar faces of the created design model. It is placed feature tool that means for creating holes you don't need to draw a circle sketch on it. You can apply simple hole from sketch plane, surface/vertex/face, vertex and offset places. In this tool, you can also taper the cylinder hole and adjust depth and diameter of them. Using this you can create any dimension of simple cylindrical hole in solid model.
Checkout Best SolidWorks Training Materials here.
Main application of Simple Hole feature tool are drilling hole in planar design faces, side pin holes, tapped holes, clearance hole, multibody hole and more. The specification of hole location as per requirements and make it more precise using SmartDimension Tool. There is an another tool called "Hole Wizard", which helps to add different types of holes such as Counterbore, counter sink, square head, straight tap, tapered tap etc. I will give how to use SolidWorks Hole Wizard Tool in next tutorial.
Other SolidWorks Placed Features:-
How to Use SolidWorks Simple Hole Tutorial
Let us see how to create simple hole in rectangular body for example.
Step 1: Create New Part File
Open Solidworks and create new part file. Then select default plane and normal to surface. Draw rectangle on it using rectangle sketch tool and using extrude boss tool extrude it into 3D rectangular box. Here dimensions are roughly taken for showing the examples.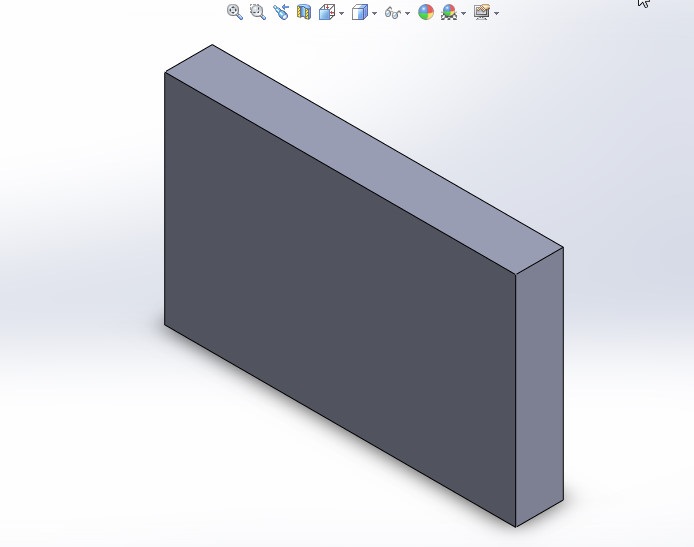 Step 2: Select Simple Hole Tool
Click on the "Exit the Sketch".
Select one of the Planar surface in your rectangular model, where you want to create simple hole and apply "NormalTo" on it convert view from isometric to plane view. Also click on specific point where you want to exactly place the center of hole. After creating it you can adjust the Hole location using dimension tool.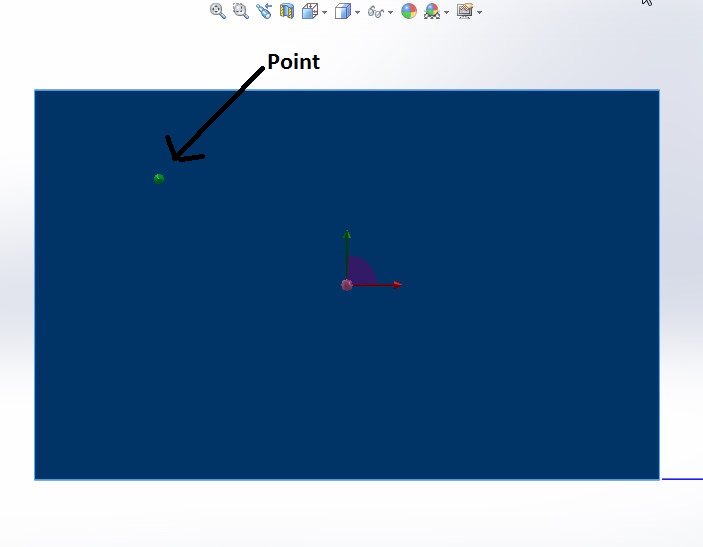 Go to Solidworks menubar, click on the "Insert Menu", and select "Features" and from side drag down menu select "Hole" and from that click on the "Simple" to select the simple hole tool.
Insert -> Features -> Hole ->Simple

Step 3: Apply Simple Hole to Planar Face
The "Hole Propertymanager" will appear on your Solidworks user interface.  You can see the preview in yellow color.
Here you can adjust the direction of the hole cutting, from where you want to drill holes, depth dimension and diameter of hole and also the drafting too.
Here I am going to use "Sketch Plane" as first option and in the "direction 1" tab, Direction of extrusion set as "Blind". Depth of the simple hole is set as "12 mm" and diameter is "10 mm".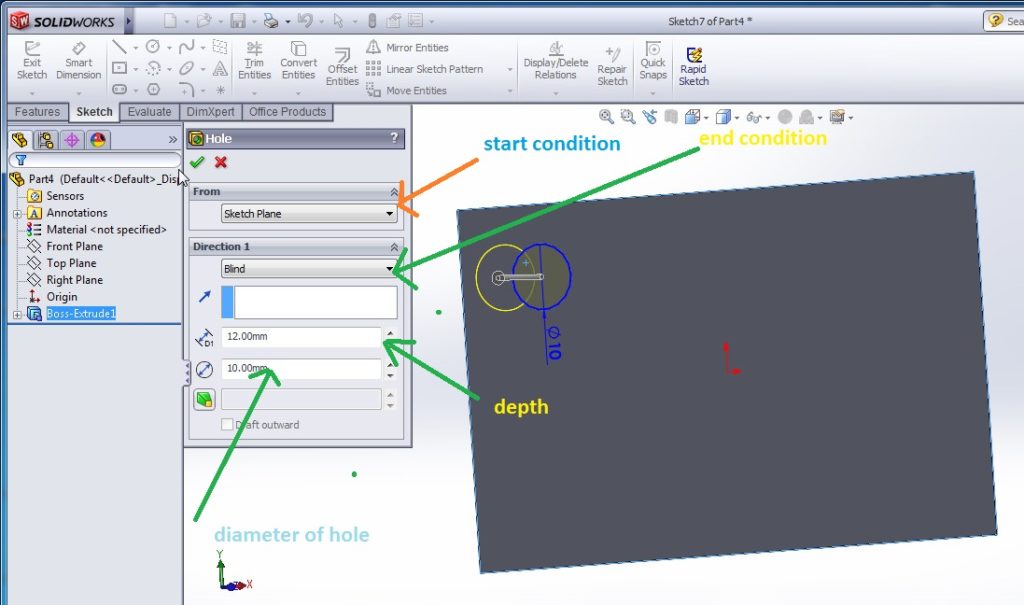 For adjusting the exact location, go to FeaturesDesignTree manager, right click on the "Hole feature" and click on the "Edit Sketch".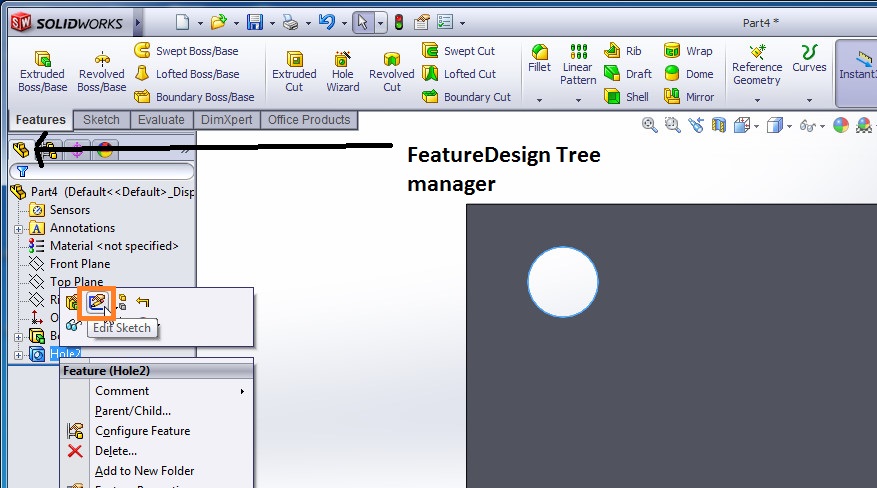 Then select the "SmartDimension" tool and click on the center of hole. And adjust the hole location from the edge of your rectangular box. For the example purpose, move simple hole to 15 x16 mm location is shown below.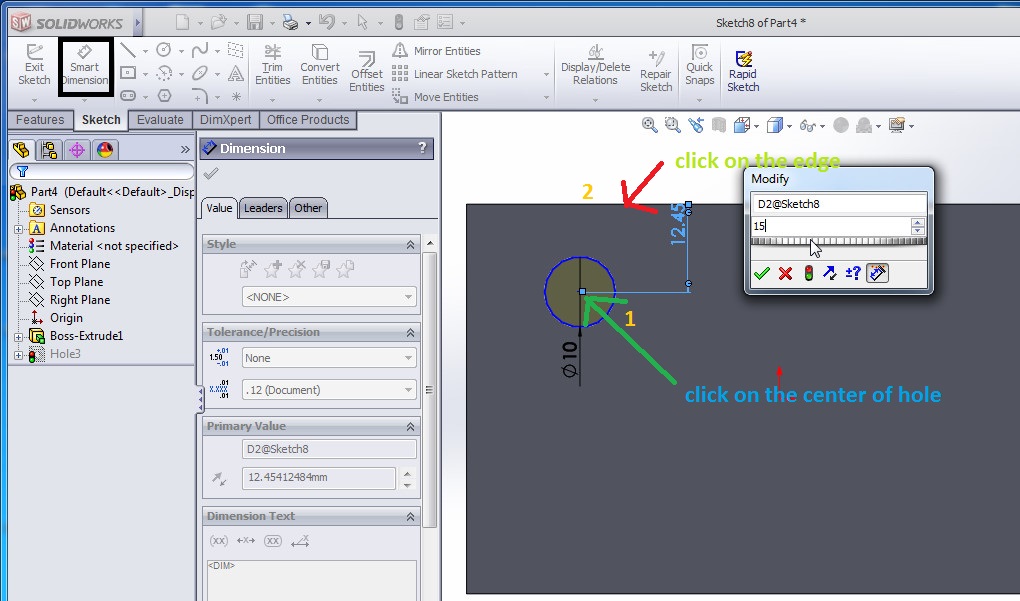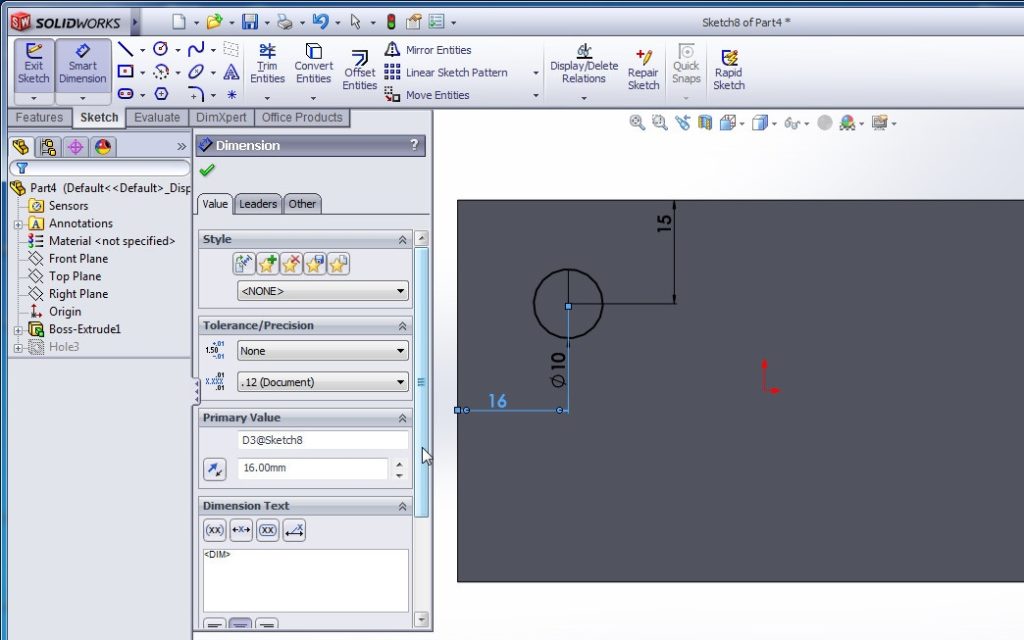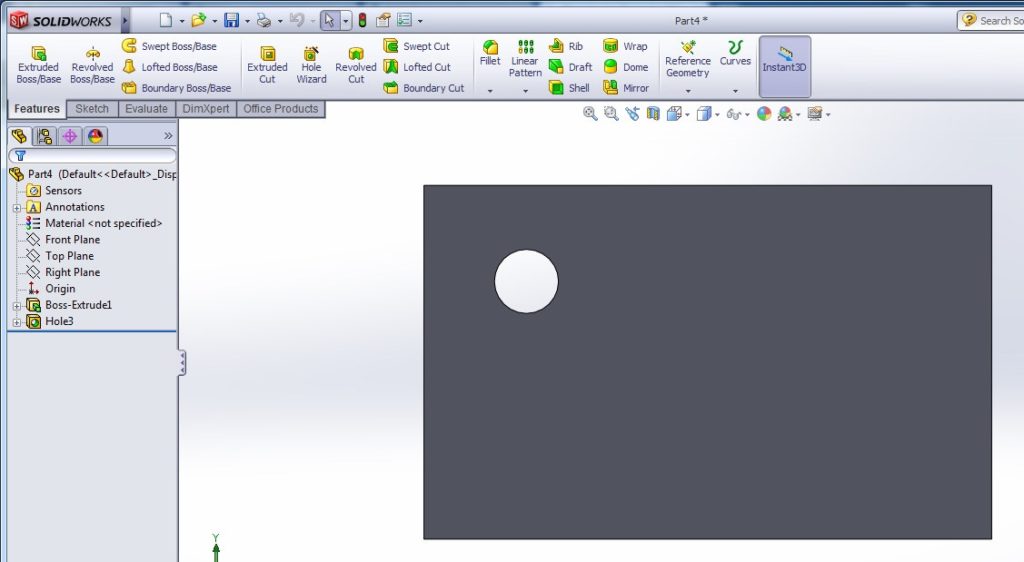 For applying Draft, click on the "draft" button in the Hole property manager and adjust drafting angle. Draft inward and outward options are also available. Below shows simple cylindrical hole with 5 degree draft.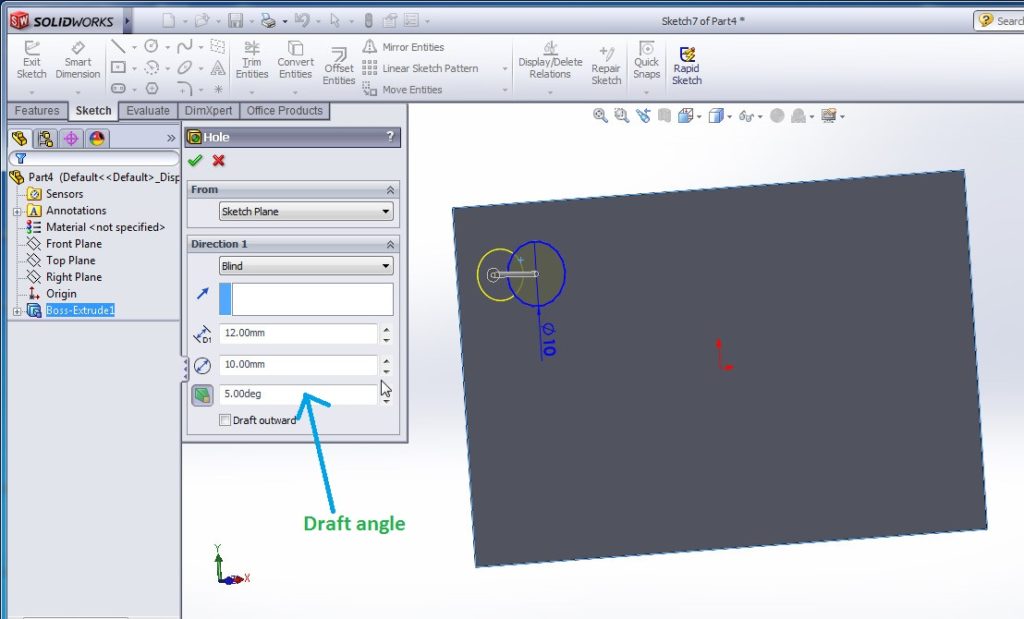 Additional Information: Hole Property Manager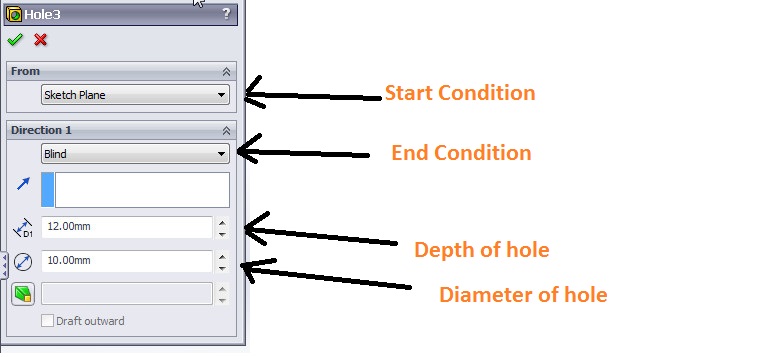 From: It is start condition for creating simple hole in planar face. It contains option like Sketch plane, Surface/Face/Plane, Vertex and Offset.
Direction 1
This tab contains different other options like end condition, direction of hole extrusion, depth, diameter and draft angle of the cylindrical hole.
End condition: Available end conditions are Blind, through all, Upto next, upto vertex, up to surface and offset from the surface.
Direction of Extrusion: It is always normal to selected plane.
Depth: Set the depth of hole.
Diameter: Set the diameter of the hole
Draft angle: Apply inward or outward draft with setting the draft angle.
This is all about the how to use soldiwrks simple hole tool in cad software.
Feel free to share your honest comments about this solidworks tutorials and thank you friends.
To get more How To Tutorials, Follow me on Facebook, Twitter, GooglePlus and YouTube.