SolidWorks Hole Wizard Tool_SolidWorks Tutorial 28
SolidWords CAD software is one of the best 3D model designing program which helps to create models and product designs with ease. To create such things, Holes for Bolts&nuts, screws, etc are important things to fastening in your designs. In this Solidworks Tutorials, I am going to give idea to use Hole Wizard with step-by-step tutorial images and explains the about Hole wizard features tool.
What is SolidWorks Hole Wizard Tool?
SolidWorks Hole wizard is placed feature which helps to create different types of holes like counter bore, counter sink, Straight tap, tapered tap, Pipe tap, legacy etc. You can set hole specifications and position with this feature tool and insert hole using pre-defined cross-section to your design or model. You can also customize the parameters of hole and save as your favorite option and then you can access this for adding to your model.
Checkout Best SolidWorks Training Materials here.
Using Hole Wizard tool, users can create holes in both planar and non-planar surfaces. If you are creating holes in planar surface, it create 2D sketch and extrude normal to your surface. Like that, if you are selecting non-planar surface, resulting sketch is 3D sketch and only you can constrain with face, not with line.
Main applications or advantages of Solidworks hole wizard tool is that are helps to create countersink, counterbore, tap hole, pipe tap hole, legacy, straight tap etc. Here also I am going show how to use hole wizard tool for creating hole for hex bolt in Solidworks with step by step tutorial with images. This is just for an example and you can simply follow the same procedure for creating holes in your designs.
SolidWorks Placed Features Tutorials:
How to Use Solidworks Hole Wizard Tool
Step 1: Creating New Part File
Open Solidworks and create new part file. Then select default plane (e.g. Front Plane) and click "NormalTo" surface.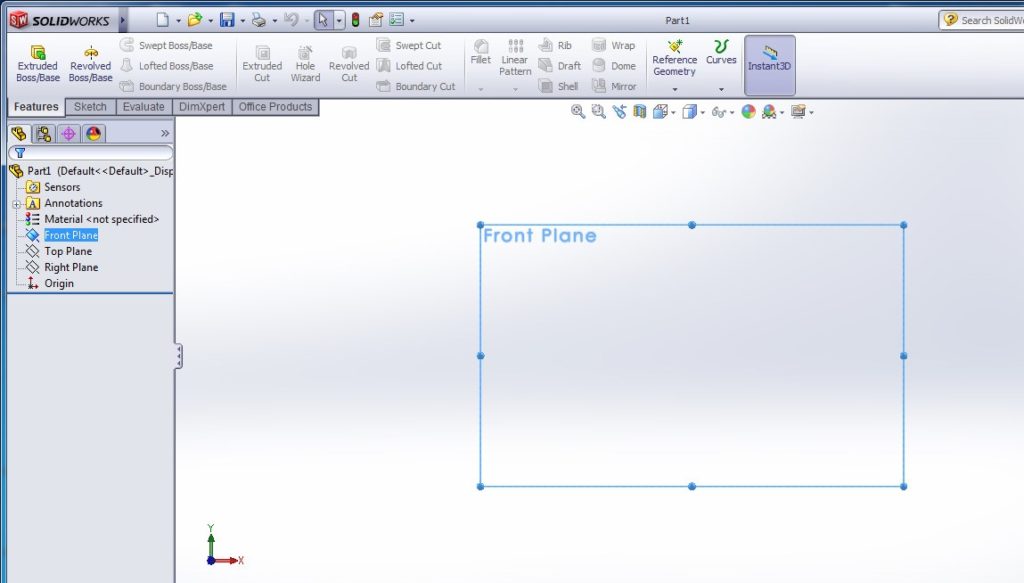 Step 2: Create Rectangle Sketch and Make it 3D
Go to sketch tool bar and select "center rectangle" and draw it on the solidworks graphics area. Give dimensions to rectangle using SmartDimension tool as "140 x 90 mm".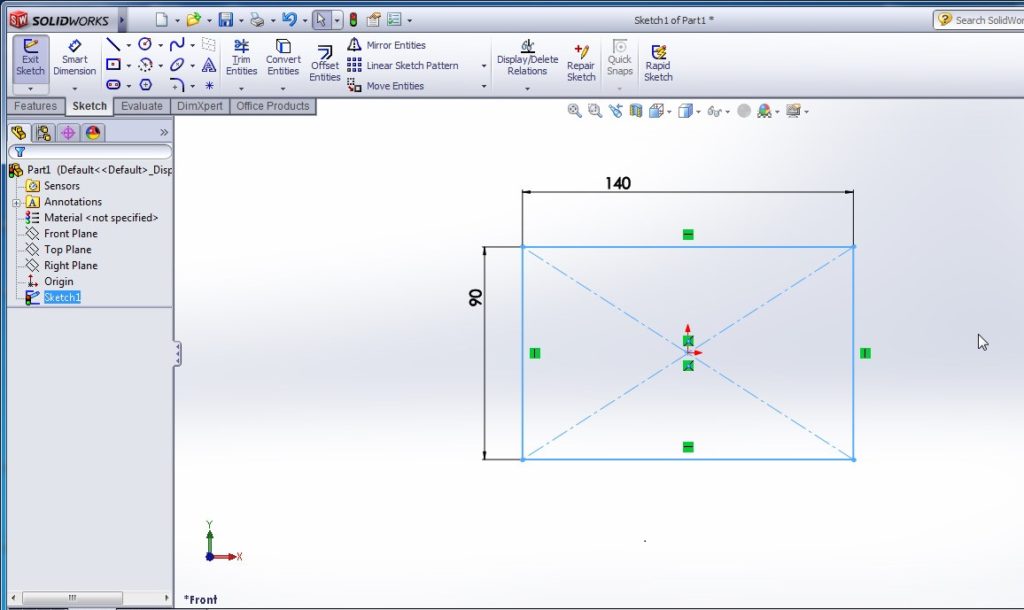 Go to Features command manager and click on the "Extrude boss" and select the rectangle sketch to make it 3D rectangle box.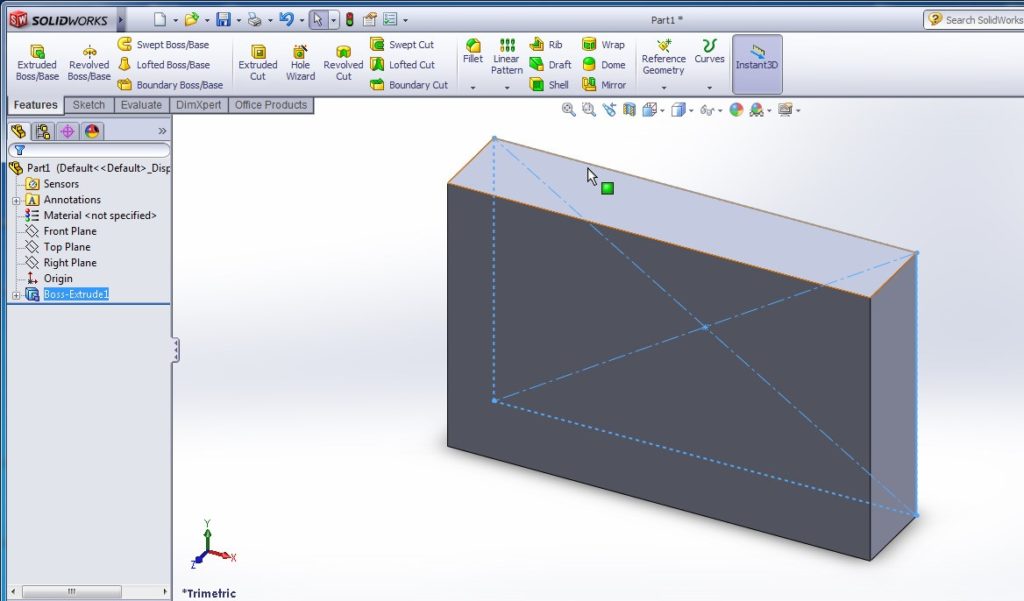 Step 3: Select SolidWorks Hole Wizard Tool
You can select the "Hole Wizard tool" using two options; one is through features toolbar and other is using menubar.
"Exit The Sketch" before going to features commandmanager.
Using Features Toolbar
Go to solidworks features command manager and click on the "Hole Wizard" tool.

Go to "Insert" menubar, select the "features" and from the side drop down menu, select "Hole" and from that click on "Hole Wizard".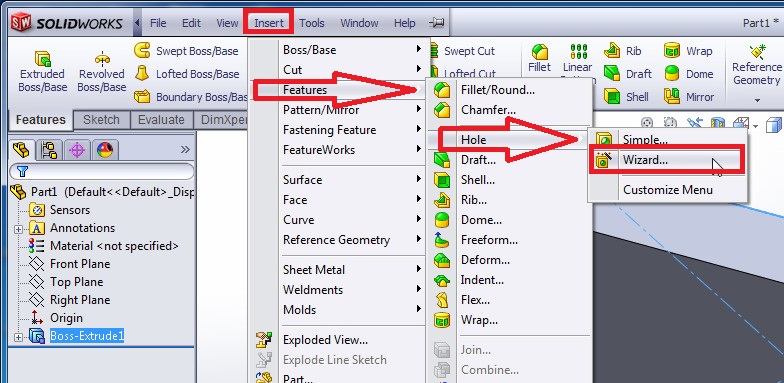 Step 4: Apply Hole Wizard Tool for Creating Hex Bolt Hole
Then you can see the Hole Wizard Property manager and have two main tabs; Hole specification and position of hole. In the Hole specification, you can select which type of hole you need to create on the planar or non-planar surface.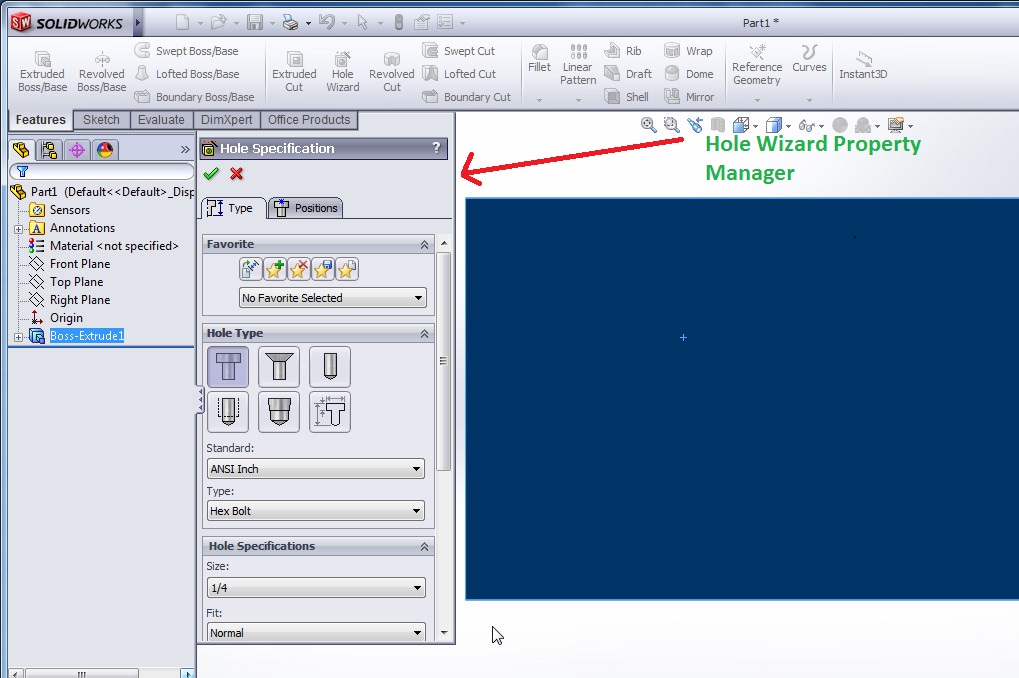 Here I am going to create holes on the planar rectangular surface. I need to create Hex bolt hole and for that I select the "Counter bore" and also select "hex bolt" type. In hole specifications section, size is "1/4" and "normal fit" are set. End condition is set as "through all". These settings are showed in below image also.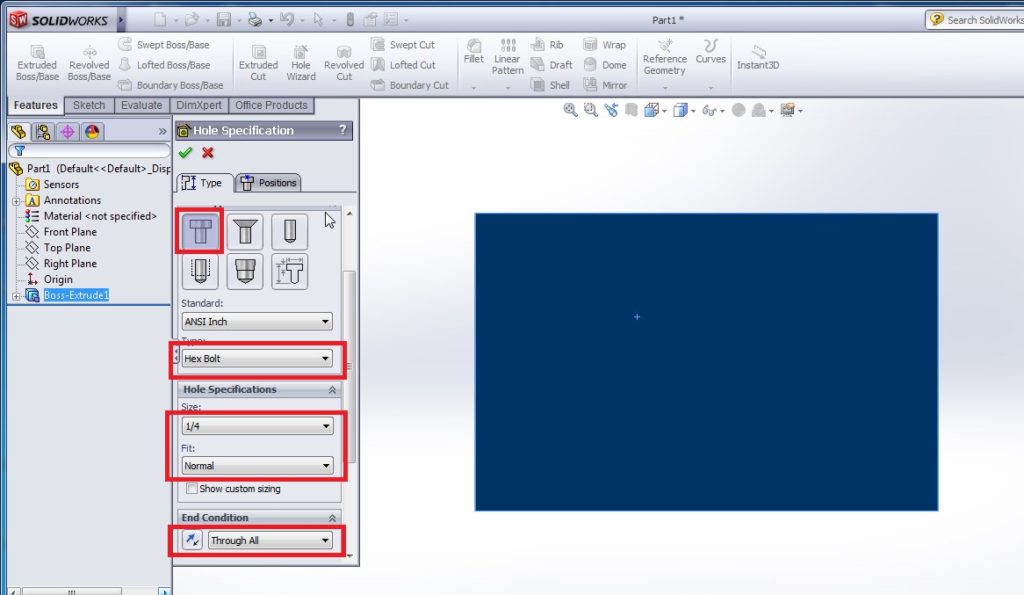 In the "Positions" tab, you can see "3D sketch" button, click on it and then go to your model and click on the location where you want to create hex bolt hole. You can see the sketch preview as in yellow color.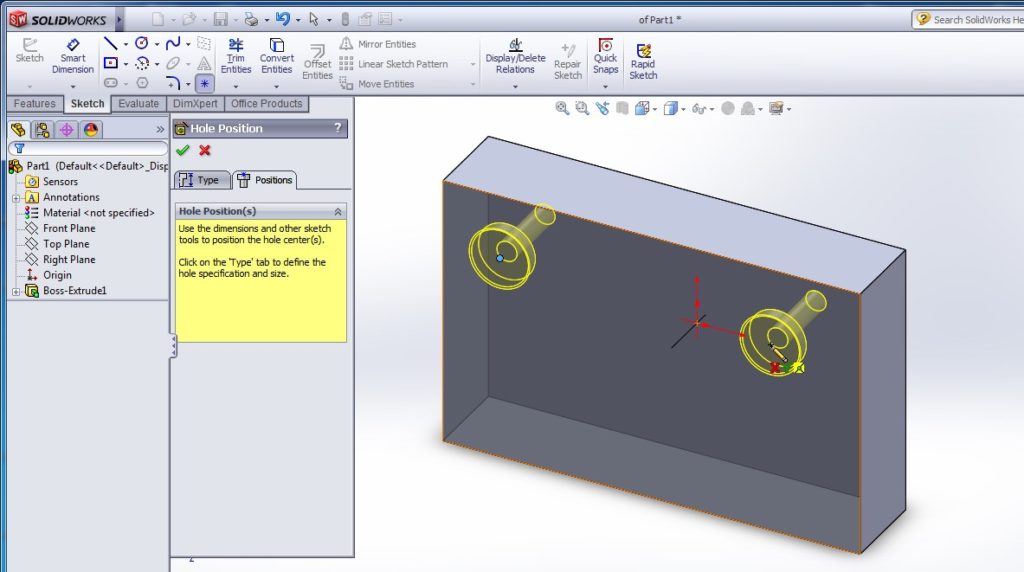 Click on the green tick button the Hole wizard property manager to complete creation of holes in rectangular plane surface.
You can also adjust the hole position using smart dimension tool. For that, go to FeaturesdesignTree manager and click right button of mouse on the "Hole Wizard". Select "Edit Sketch" option and click on the Smartdimension tool to change the position of the hole.
If you can't find it, click on its side plus button and click on "3D sketch" and edit it. From that also select smart dimension set your dimension from the both adjacent sides to get desired location for your center of the hole.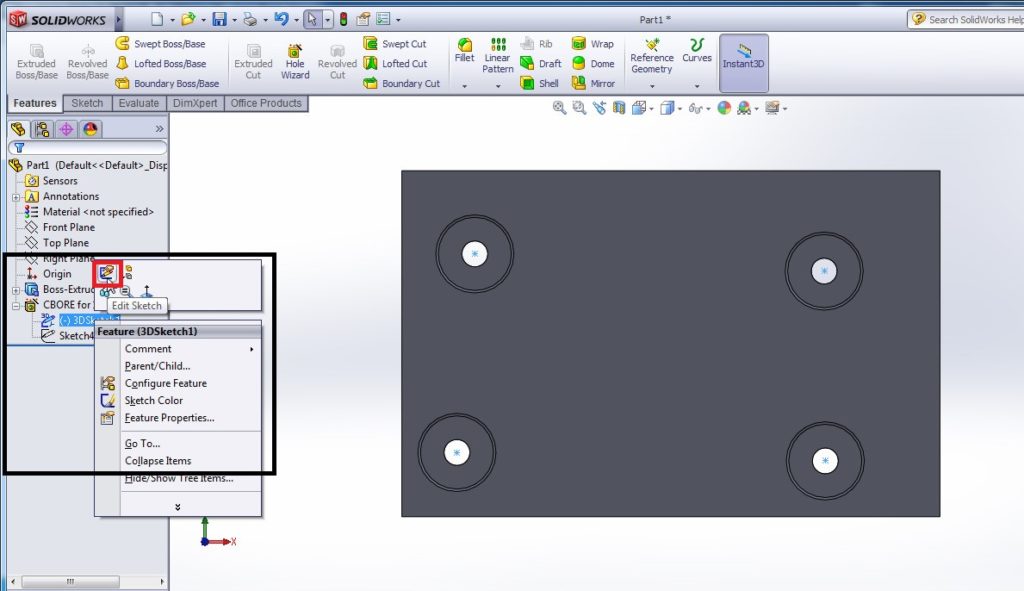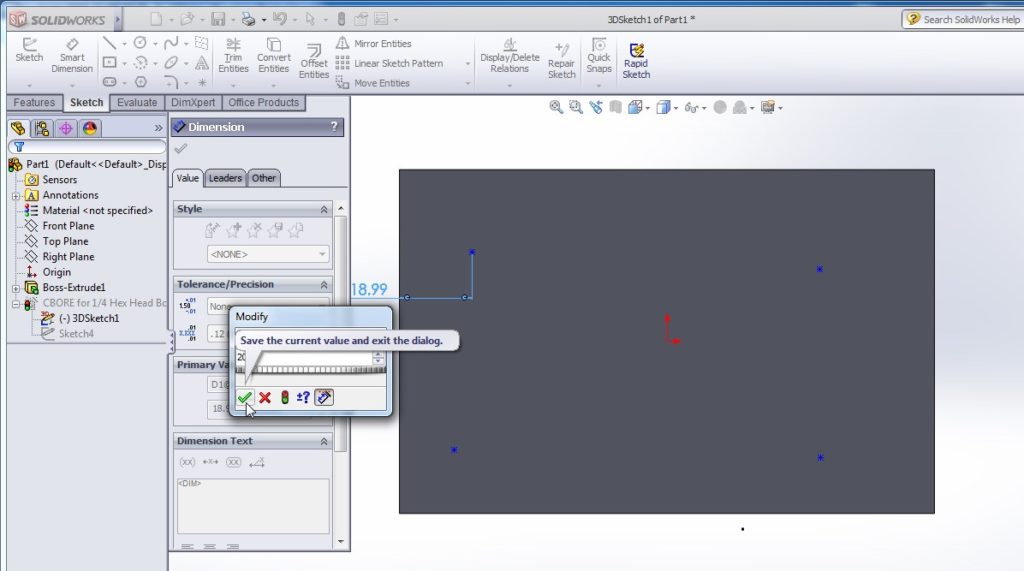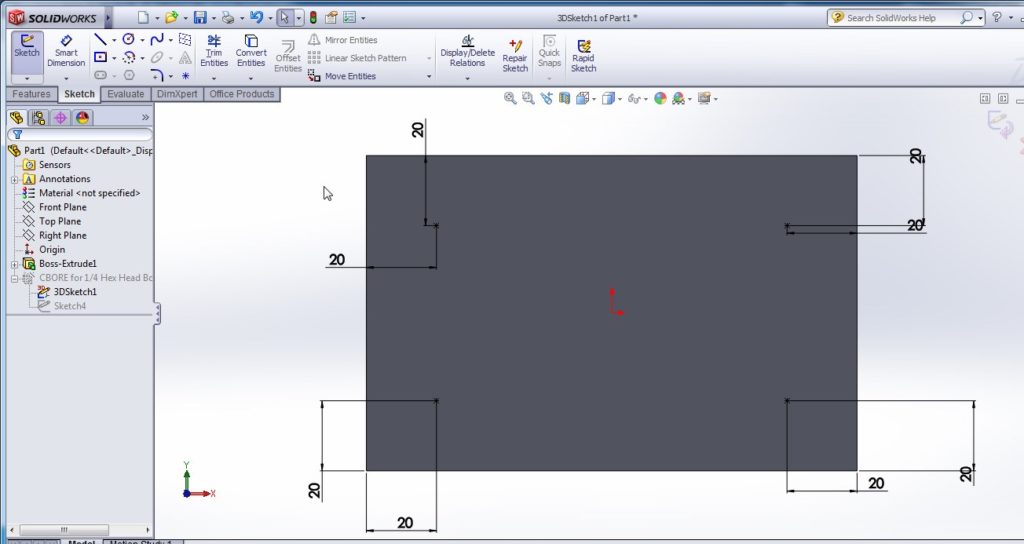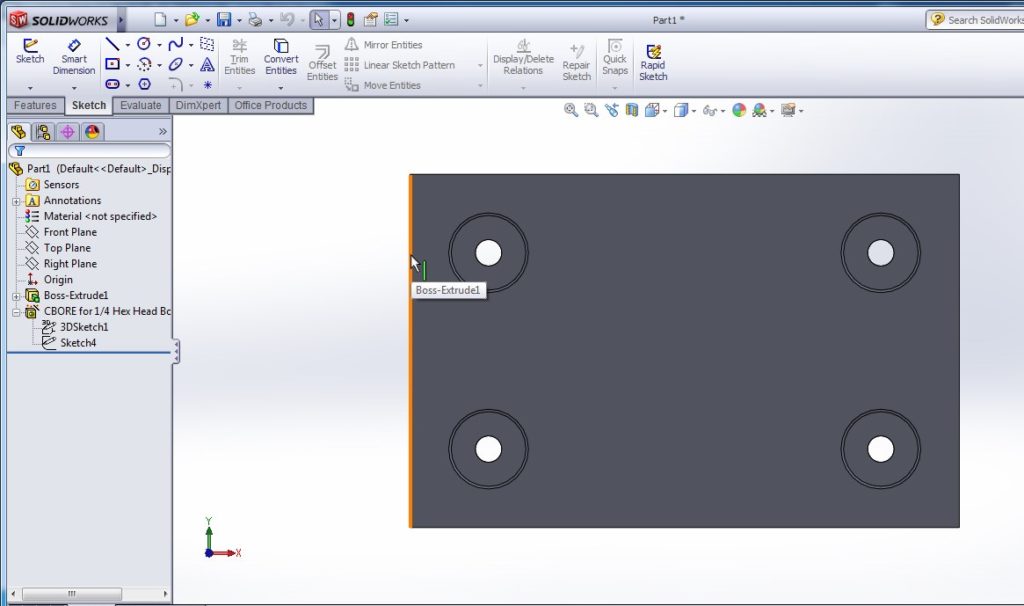 Final Image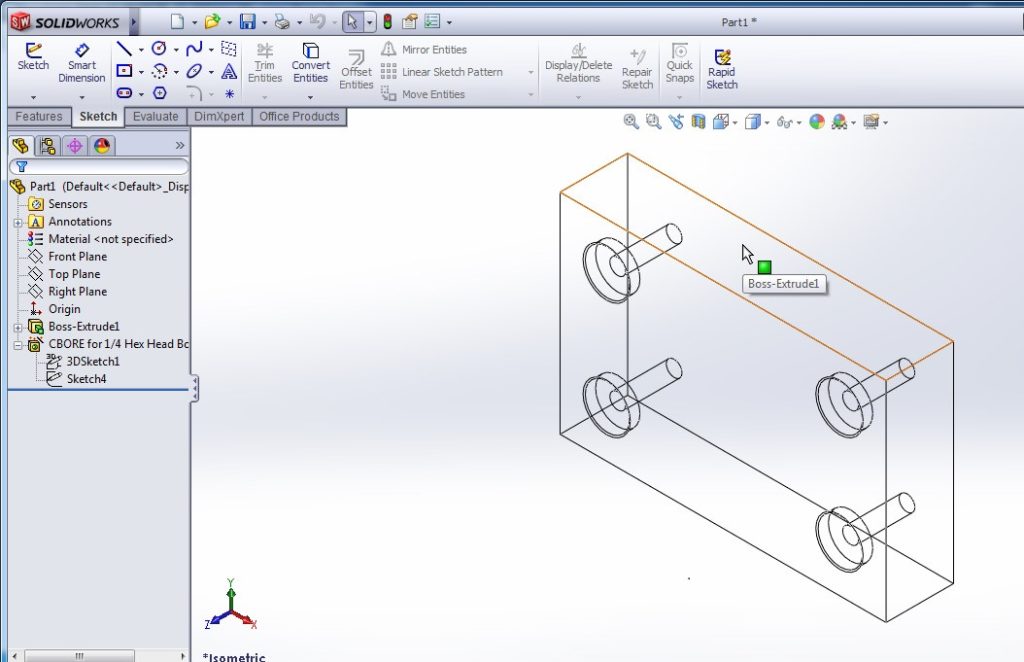 This is Solidworks tutorials for creating varieties of holes in your model by using Hole Wizard features tool. This is only an example and by following the above steps you can also create other types of holes in solidworks.
To get more How To Tutorials, Follow me on Facebook, Twitter, GooglePlus and YouTube.
Feel free share your opinions and doubts and thank you friends.