SolidWorks CAD software is one of the best 3D modelling software which used all over the world by most of the professional companies and engineering educational institutes. To learn SolidWorks is prime motive of an Mechanical engineering professionals work around mechanical product design and other engineering application areas. In this SolidWorks tutorial blog, you can find how to use each tools in SolidWorks. It is just showing the basics of this 3D cad software. So, you guys need to some of the references for taking your SolidWorks skills to new level by learning it in depth.
Here, I have some SolidWorks training books and DVD's of different authors picked up from my own experiences and friends of mine too. I know these references will definitely going to help in developing new skills and will take you from beginner to advanced level.
Disclaimer: These materials download or buy links are affiliate links. It doesn't cost extra money for buying through these links. It will give small commission money to me and there by I can meet the running cost of this blog.
SolidWorks Training Materials:-
SolidWorks 2018 Basics Tools: Best for Beginners and Intermediate Users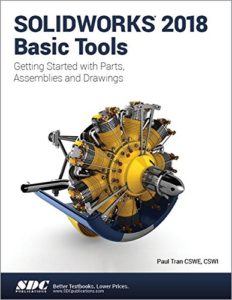 If you are searching for the latest SolidWorks 2018 tutorial material, this book will help to learn SolidWorks 2018 basic tools. It explains each and every tools of SolidWorks in very detail and in depth. You can learn user-interface, basic tools and how to apply for making solid modelling using this CAD software. The practice exercises are mostly real world engineering applications. At the end of each sections, you can find certain questions which helps to review your learning's about this CAD software. As beginner or intermediate user, you will get to know basic tools in very depth using this paperpack of SolidWorks study material. It is very useful for mechanical engineer or product designer who are learning for SolidWorks certification exams.
SolidWorks Bible 2013 for Beginners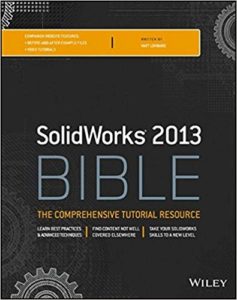 SolidWorks 2013 Bible is one of the best training martial to learn SolidWorks for beginners and intermediate level users. It explains from basics to advanced level of this CAD software in detail with aid of images and explanations. It is one of the perfect training book to start SolidWorks learning for beginners.
It explains about part solid modelling, sketch and feature tools, making Assemblies of various products, creating engineering drawings, works with sheet metal, weldament, surface modelling, plastic modelling, Mold making tools and multi bodies creation etc. You can click on buy now link and see the book pages by using Look Inside feature.
Buy now
These two books are very good for learning SolidWorks for beginners and you should buy it and will help it to obtain SolidWorks certification without going to a CAD tutor institutes. Also it is paperpack and will always remain with you as reference too.
Now, decision up to you.
Thank You.