Solidworks Heads Up View Toolbar
While working or designing of products on Solidworks like cad softwares, the view of the product is very important. For that purpose, the Solidworks provides better support to users via, Heads up View toolbar. It is located top center portion of Solidworks graphics area and contains quick access different tool buttons like Zoom to fit, Zoom to Area, Previous View, Section View, View orientation, Hide/show items, Edit Appearance, Apply scene and view settings. You can also find the tool buttons are in the View menubar, which contains much more detailed view tools. These types of quick access tools form the Solidworks user-interface very easy to use and give more productivity to designers.

Let's see each tool buttons contained in the Solidworks heads up view toolbar.
Heads Up View Toolbar: Zoom to Fit
Zoom to fit is part of Zoom tool, have major use in Solidworks designing. The name of the tool itself says the function of it. If you zoom in or out a particular product and quickly you want to show the fit window view of that product in the graphics area. Just move your cursor to this tool and click on it. The model will fit to your window within seconds. Checkout Best SolidWorks Training Materials here.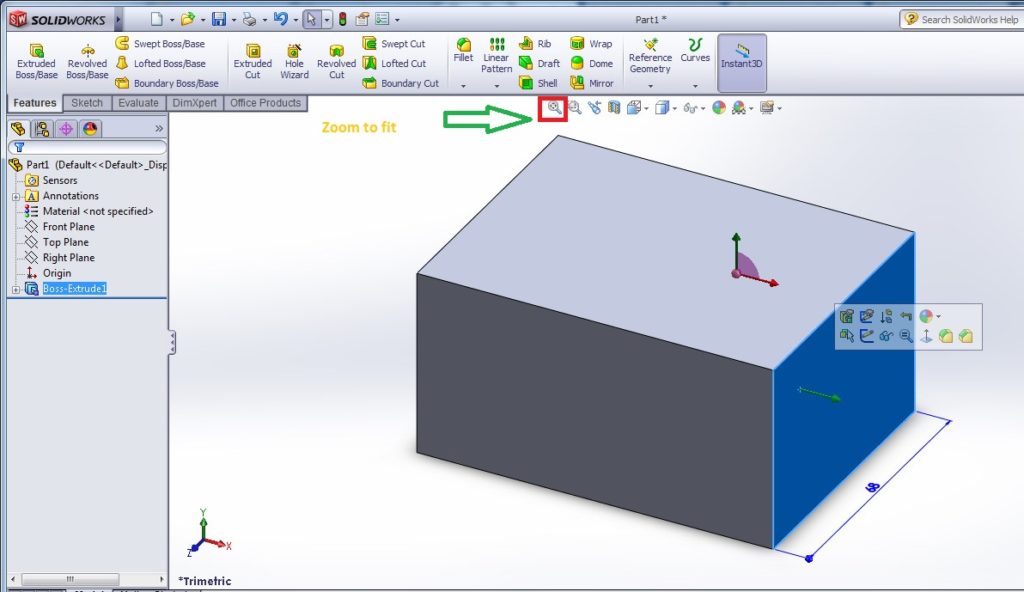 Heads Up View Toolbar: Zoom to Area
Zoom to area is very helpful tool, when you want to view a particular area your product design (say, inner seat of globe valve). You can see the small portions in your design in enlarged manner, just by dragging the bounding box of "Zoom to Area" view tool.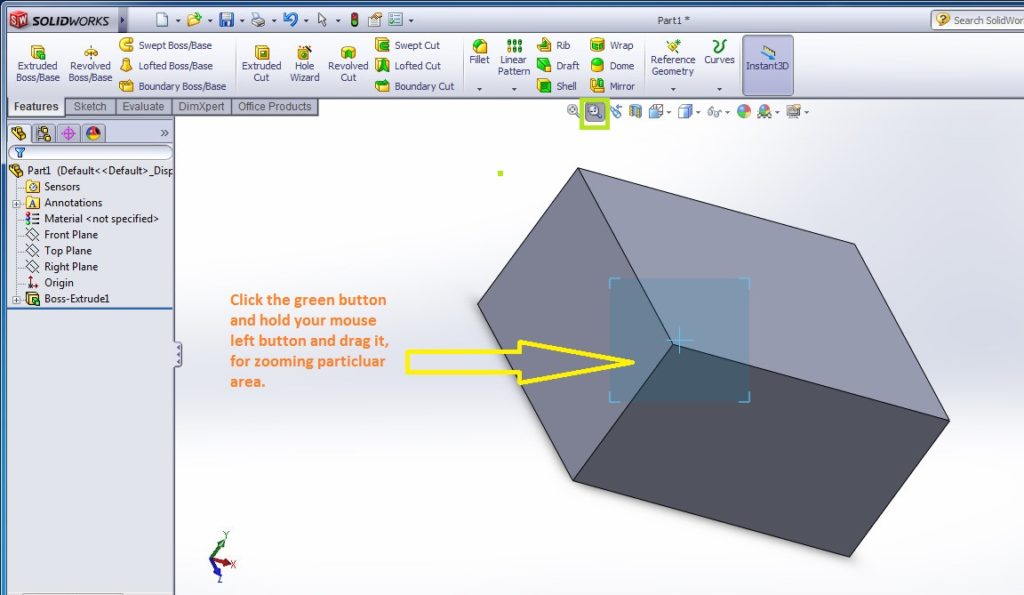 Related SolidWorks Features Tools Tutorials:-
Heads Up View Toolbar: Previous View
Previous view is helps to designers, loses the particular set view by some operating mistake. If you miss the set view, just click on the previous view button, automatically sets your previous view.
Heads Up View Toolbar: Section View
Section view helps to see the sectional view of 3D models with ease using the one. It have section view property manager, which manages the different sectional views as per your need. You can also use the double sectional view features using this property manager. Section view gives better view of the internal holes and patterns of your design.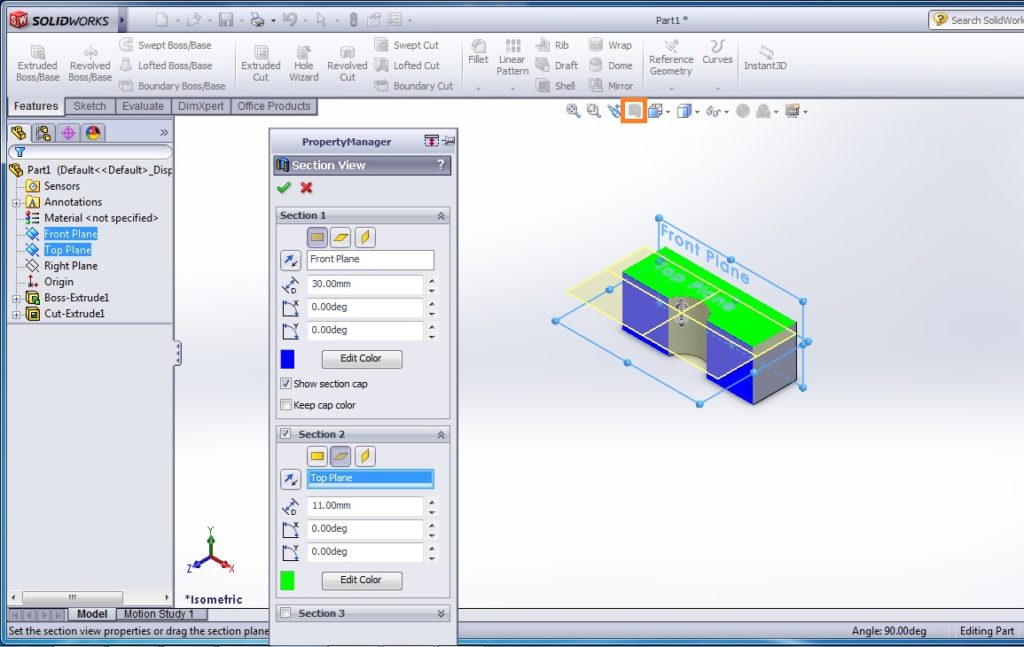 Heads Up View Toolbar: View Orientation
Then "View Orientation" is helps to change the current view orientation of your designed model or number of view ports. It contains different types of view orientations like Top, Isometric, Trimetric, Dimetric, Left, Front, Right, Back and bottom views. In the upcoming tutorial, I will show you the different view Orientation with proper explanation.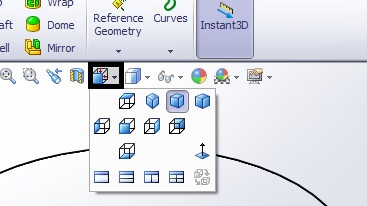 Heads Up View Toolbar: Display Style
It changes the display style of your model like Wire frame, shaded with edges, shaded, hidden lines removed and hidden lines visible. You see your model in different display style after designing it.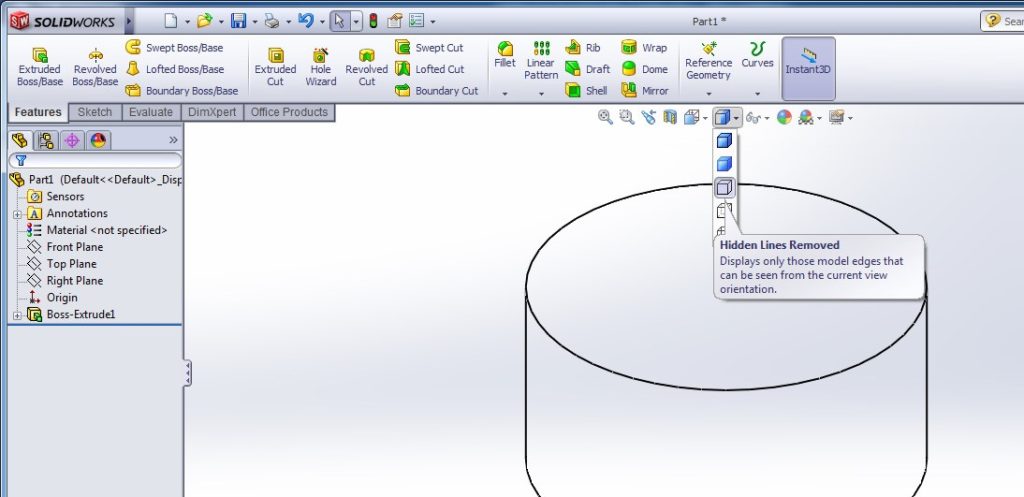 Heads Up View Toolbar: Hide/Show Items
The 'Hide/Show Items' tools helps to change the visibility of items in the graphics area. Items mean the plane, dimensions of model, axis, curves, view section planes, View cameras etc.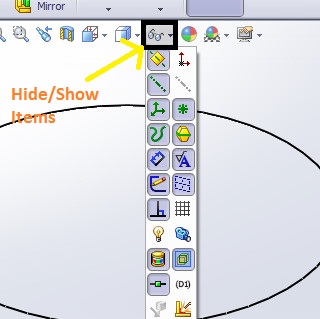 Heads Up View Toolbar: Edit Appearance
This tool enables to edit the appearance of the model created in solid works. It have color property manager interface which helps to select the surface/plane/part/features/ bodies. You can change the appearance of the model as you created with this cad software by applying different colors to them. It is mostly applicable in Solidworks Assembly models. For each part, you can give different combination of colors. It also has advanced appearance section in property manager, which allows to edit the models Illumination, surface finish, color/image and mapping.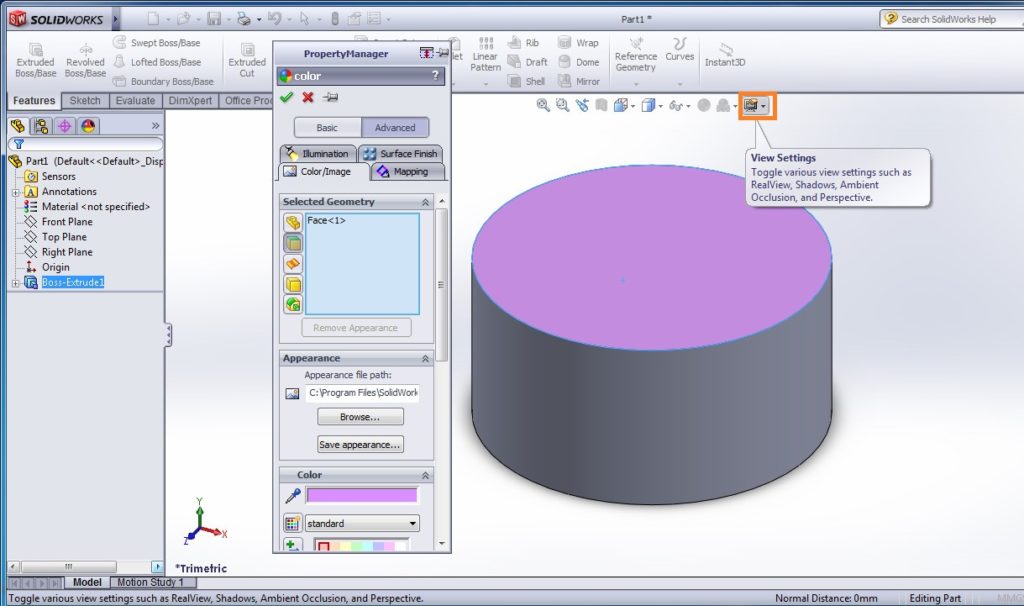 Heads Up View Toolbar: Apply Scene
Using this tool, you can add different scenes to your model. When you apply scene view tool, it automatically changes the graphics area scenes according it. There are lot of pre-maid scenes are contained in this option and you can add as per your need. It is only enhancing the view of your model by changing different backgrounds.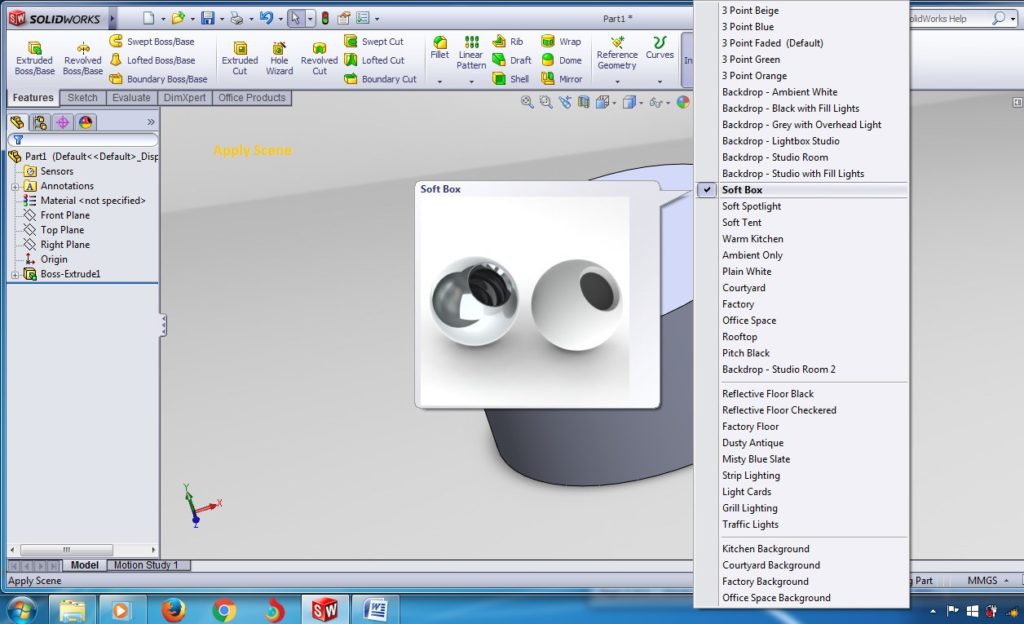 Heads Up View Toolbar: View Settings
The 'View Settings' contain mainly three view options such as Shadow in the shaded mode, ambient occlusion and perspective view.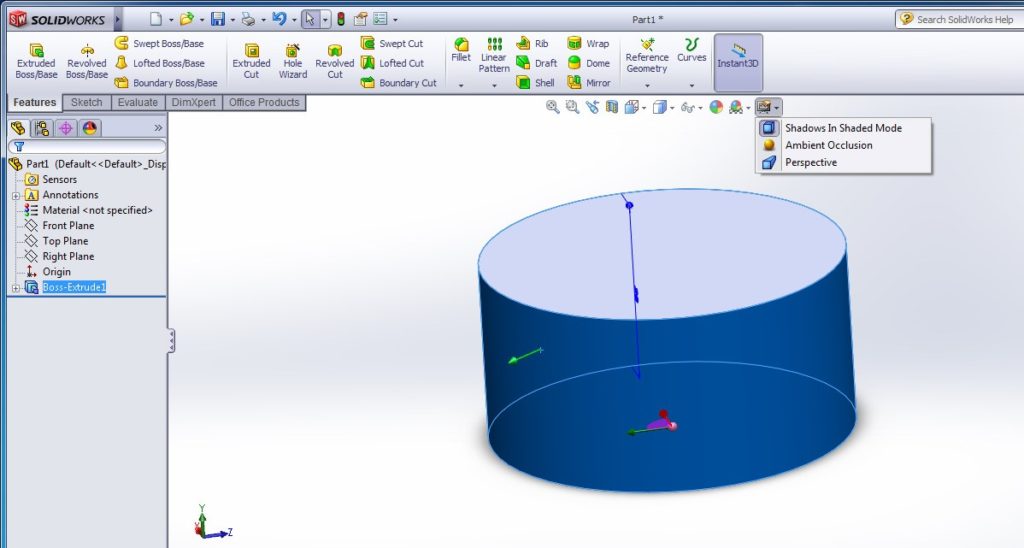 These are the main tool options contained in the Heads-up toolbar of Solidworks graphics area. If you have doubt about this solidworks tutorial post, feel free to ask via comments or contact form and share your honest opinions about it and this tutorials blog.
Related SolidWorks Sketch Tools Tutorials:-
To get more How To Tutorials, Follow me on Facebook, Twitter, GooglePlus and YouTube.
Thank you friends for reading..